Click Any Photo To Enlarge!
Current Venue : Pahrump, NV
Campground: Lakeside Casino and RV Park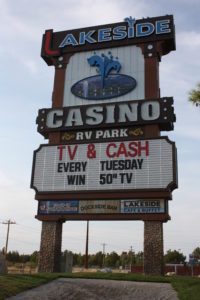 Once again, I got off to a later start than I would have liked — 8:00 am. This, after discovering a couple of my "extra load" tires on the van were quite low (the max psi is 50 and it was down to 35 in one of the rear tires). I didn't figure losing this hour would really be a big deal, though. But a few hours later I found myself scaling Ibex Pass on Highway 127 in 97 degree weather! Oops, I did it again. I stopped twice as I found myself nearly overheating. The second time, I grabbed a couple ice packs out of the freezer to keep Jeepers comfortable in his kennel. The 3 and a half hour drive somehow turned into a 5-hour marathon.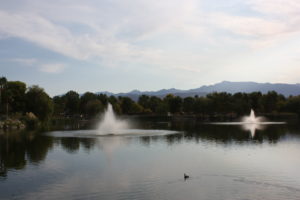 But we made it! And there will be much more on Lakeside Casino and RV Park at a later date. For now, I'll just say it's fabulous. Besides the fact that it's beautiful, has a nice heated pool, an on-site casino, and a decent buffet — the wifi is outstanding! With one poker room in town and the strong wifi here, I can play poker here as much as I want without using the bandwidth on my hotspot. At a little over $400 per month, I anticipate a longer stay in the near future.