Click Any Photo To Enlarge!
Where I'm At: La Quinta, CA
Campground : Lake Cahuilla Recreation Area
Perplexing Little Oddities
I'm not sure why I chose a desert country setting for my Christmas "out week" in the Palm Springs area. I'm guessing because it was the "cheapest" at $183. Even so, at that price I assumed I was getting full hook-ups. This was not the case. Now I'm conserving water and washing dishes outdoors for 7 days so that I don't have to bother with the dump station during the holidays. Easy.
I found myself a little perplexed by a few things at Lake Cahuilla. First, the water hookup is in the front of the site.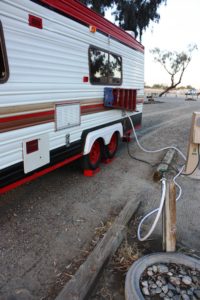 Which is no problem except it sort of forces you to park right on top of your fire pit…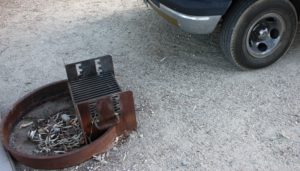 Again, no problem as long as the park isn't full — I can simply move my vehicle. Other oddities in the park include an embarrassing attempt at a pickleball court, inconveniently-located dumpsters, pay-showers, and a combination-code padlock for gate entry after 10 p.m.  But here's my favorite…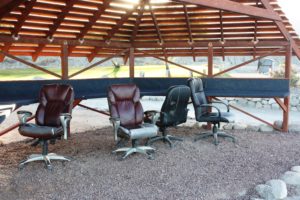 That's the wi-fi station. And, yes, those are rolling office chairs on gravel! And, no kidding, it's a very popular spot.
But Sunrises Trump All Oddities…
As often the case, after solving a campground with challenges, a new day brings new perspective. The sunrises are spectacular here! Not the sky itself, but how the morning light brings out the vivid colors of the mountains and the lake.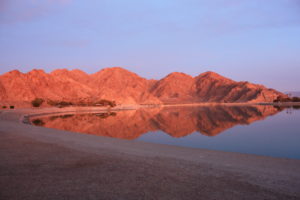 Despite only a couple dozen RVs in the entire park, the campground comes to life before 8 a.m. That's when the fisherman start trickling in and start surrounding the crudely-formed man-made lake. It's when campers start walking their dogs. Some simply get up to sit in their lawn chairs and soak it all in.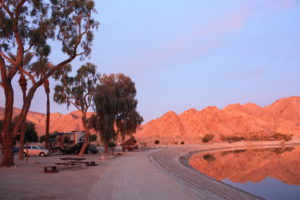 And there seems to be one common denominator here — RVers and staff members alike — everyone here seems extremely happy!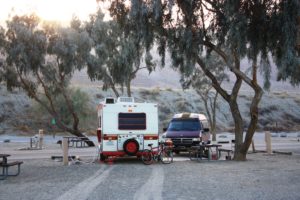 Small inconveniences aside, I love my site. I have a spectacular views right from my window and some very nice shade. I'm still on the lookout for the bighorn sheep that apparently roam these hills, but I'm hopeful.