Click Any Photo To Enlarge!
Current Venue: Kingsburg, CA
Campground : Viking RV Park
OKAY I FORGOT…
While Boron turned out to be a pleasant surprise, I'm afraid I did not have the same experience in Kingsburg. The Swedish Village is perhaps the worst tourist trap in the entire country. The downtown area is well-advertised on the interstate billboards and I expected a fun cultural experience. Unfortunately, I believe they may have given up on this project years ago — it almost feels as if the facades are incomplete. And the only authentic restaurant I found was Mexican!
Here's the worst part: The experience was so forgettable, it turns out I had already HAD! I had visited the Kingsburg Swedish Village less than a year ago and had already erased it from my memory. That's pretty bad.
MAYBE I'LL FORGET THIS, TOO…
I wish I could say the campground is any better. It is not. Here's a Viking RV Park Summary:
Narrow drive. Self-Registration. There is nobody there to answer questions.
Primitive hookups and water surges that squirt water on your rig occasionally.
The RV pull-thrus are in the center of a very residential park. The over-nighters don't unhitch because they don't want to.
There are no amenities other than a forgotten TV room that is no longer hooked up to a signal.
There is a side road that is a cut-through to the freeway ramp. Drivers scream around the corner at 40-50 miles per hour and it is not a safe place to walk.
On the other side of the park is a busy railroad track.
Normal rate is $40 per night. I suspect most RVers that actually stay here only use discount clubs.
Here's the "are-you-freggin'-kidding me?!" portion : PAY SHOWERS!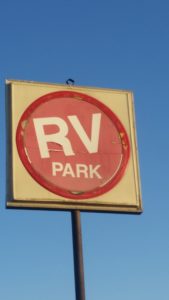 The only nice thing about this park is that if you want to wait until 9 am, most of the other RVers will have already cleared out.
If you read my blog regularly, you know I rarely give campgrounds bad reviews. In fact, 95% of my experiences are quite positive. Unfortunately, Viking RV Park just made #2 on my list of worst RV Parks I've ever stayed in (Big Chief in Liberty, Kansas is still #1).
WEATHER
Of course, this stay wasn't part of the original plan. Initially, I was going to make my way through Northern Nevada and Idaho — but the 11 degree lows changed my mind.
Then I mapped out a completely different route through California. But flooding at my first destination landed me in Kingsburg. And I've now just discovered two more of my destinations heading north are also underwater! This has led me to do something rather drastic, at least for me — a 7-hour drive to get me north of Redding. I've never driven more than 5 hours hitched up. But now that I'm not racing against the time constraints of my pet's sedative, I figure I can pull it off occasionally and make good use of rest areas.
I've also been checking some weather reports. There'll be rain in Redding, snow in Bend, and much more rain in Seattle — this is fantastic! However, I am a bit concerned about the mountain passes when I head to Bend. While they're only calling for one inch Monday, it may be quite a different driving through the higher elevations. Would I actually put on chains while towing a trailer? I certainly don't plan on it.