Click Any Photo To Enlarge!
" * " Definition on Common Terms Page
Current Venue: Las Vegas, NV
Campground: Sam's Town/KOA

NASCAR is coming to town! I signed up to work the event and fantasized that I could avoid a long bumper-to-bumper commutes each day by dry-camping at one their five RV parking lots and then riding the scooter to the gate. The cheapest chunk of concrete real estate? Only $240.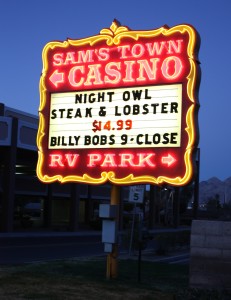 Plan B wasn't much better. With a busy job search this week I really needed amenities during part of my "out-week" from Thousand Trails. So I paid some pretty jacked-up NASCAR rates down the road at Sam's Town KOA (still a 40-minute drive from the track).  I can at least justify this by dry-camping at a casino in Boulder City this weekend.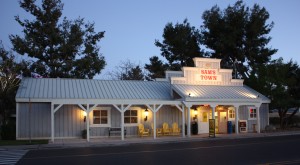 If I haven't made it clear yet, I've chosen the most challenging week of the year to leave the Thousand Trails system. Eager to get back in my home park to escape these inflated camping rates I tried to make reservations for next Monday.  They're full!  I guess NASCAR fans aren't in any hurry to leave after the race.
I'll just have to make the best out of moving 4 times in ten days. After all, it's "kinda' like traveling."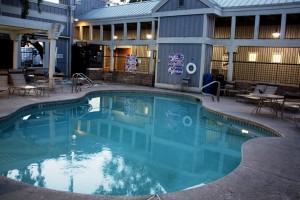 And Sam's Town is a really nice park.  There are great views of neighboring casinos, fantastic facilities and, one of my favorite features — cable TV with four HBO's.  And believe-you-me, I took full advantage of the movie channels while I filled out job applications on-line. I'll definitely come back for some partial out-weeks.
Well I'd better shove off! My shift is at 11 am today and I'm moving 48 Ugly* before I go…