Click Any Photo To Enlarge!
" * " Definition on Common Terms Page
Current Venue: Kanarraville, UT
Campground: Red Ledge RV Park and Campground
It's difficult to describe how breathtaking Southern Utah is. Sure, Arizona has dibs on the Grand Canyon, but THIS is canyon country! It may be the most beautiful place I've explored in the Lower 48 outside of Coastal Oregon. 

Today I'm going to show you the little trail only two blocks from camp, right in the middle of town. Kanarra Falls was only discovered a few years ago, but it's quickly becoming a popular attraction by word-of-mouth.
Plan to get your feet wet…
Oh, it starts off innocently enough. It starts off a steep desert hill that begins in a dusty parking lot. But as soon as you turn the bend on the back side of the mountain, it takes on a different look entirely.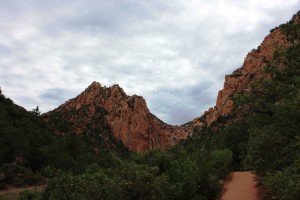 At first, the trail crosses the creek a couple times and you hop a few stones to keep your feet dry.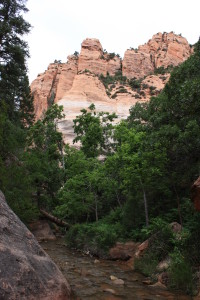 But then as the path starts to parallel the waterway, you notice some people walking right up the stream! At first you think they're just showing off. But as the trail keeps criss-crossing the creek, you begin to realize how futile the effort of keeping your precious shoes dry really is.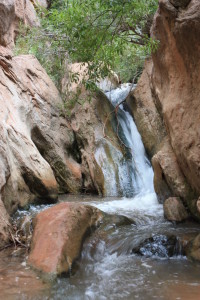 Oh yeah, and in case somebody didn't tell you, this is the ONLY way to enter the slot canyon…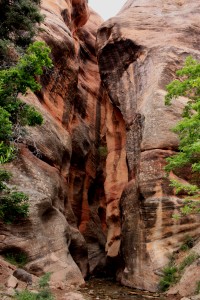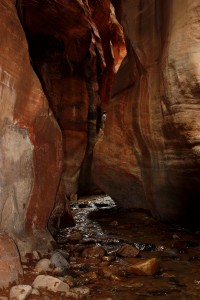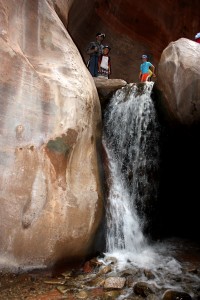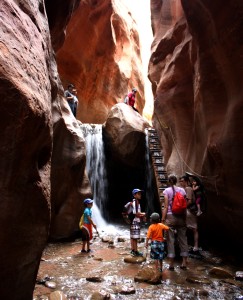 And do you think there's a dry path at the top of that ladder?  After the short climb I found myself once again ankle-deep in water as I gazed at another waterfall. Well worth the effort, but I think I'll save the other 7+ miles of upstream wading for another day — like when I'm in better shape a year or so from now.
This time I'll just pretend I'm a seasoned veteran of the falls as I march straight downstream and secretly chuckle at the folks trying to keep dry…
(Ha Ha! Amateurs…)