Click Any Photo To Enlarge!
Current Venue: Las Vegas, NV
Campground: Thousand Trails
With so much talk about the Oakland Raiders coming to Las Vegas, it's not unusual for a visitor to mention the inhospitable climate of the desert. What people don't realize is, even 100 degrees in a place where there's no humidity is quite tolerable. A night game in September when it's only 78 degrees is practically surreal!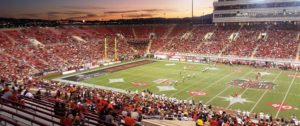 I'm  ashamed that it took me so long to get to a UNLV football game, especially being my campground is a couple miles away. But, I finally made it! Surprisingly, parking is free. And because my companion recently had foot surgery, we were able to upgrade to the nifty handicap section with plenty of space to spread out.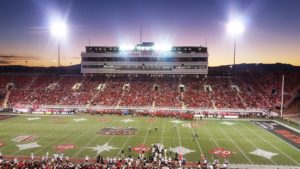 The Idaho Vandals came into the game 15-point underdogs. But UNLV gave up an early lead on turnovers, and would chase Idaho the remainder of the game. The Rebels found their rythm with a lot of fake handoffs — the quarterback Johnny Stanton rushing for 131 yards.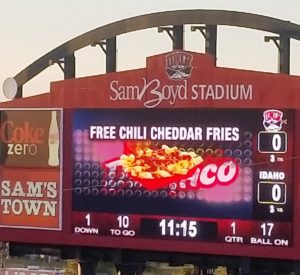 The Rebels managed to tie the game on a long run in the 4th quarter to take the game to overtime but, in the end, could not manage to keep Idaho out of the end zone. Callen Hightower caught the winning touchdown pass, and the Vandals pulled off the upset 33-30.
What a game!