Click Any Photo To Enlarge!
" * " Definition on Common Terms Page
Current Venue: Las Vegas, NV
Campground: Main Street RV Park

Off to Jacksonville, Illinois for my grandmother's funeral.  My cousin picked me up in St. Louis and dropped me off at my parents house.  They'd moved to town a couple years ago, and this was the first I'd seen of their new home.  It was also the first I'd seen of my mother in a few years.  Always a stout woman in the past, I was pretty frightened by her tiny frame — a result of a mysterious illness she's been battling for a year, now.  I've been assured by other family members that the illness isn't life-threatening, and was quite relieved that she moved around well enough while giving us a tour of the house.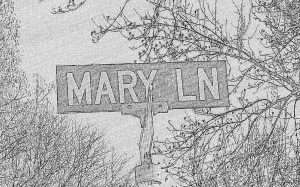 Despite a cram-packed schedule for two days — 6 funeral stops — I still managed to take a walk around the old neighborhood Friday morning.  The house I spent half my childhood was unrecognizable.  In fact, I didn't even take a picture of it.
Instead, I reminisced about my old paper route.  I walked by a little house on Park Place and recalled a gentleman that would stand at the edge of the sidewalk waiting for me if I was even a minute late with his delivery.  He was relentless, no matter how miserable the weather was — he'd be there waiting.  My fear of the man's tongue-lashings eventually whipped me into shape.  In fact, in later years, we even became friends and I recall sitting down with him and his wife on a couple occasions.
Punctuality doesn't exactly run in my family.  Being the most on-time person I know, I have to believe this experience had quite a bit to do with that.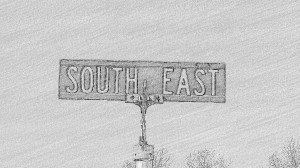 Grandma's House

Sometimes he'd tease me with those strange taffies in the orange and black wrappers,
"Want one? Take it…"
"C'mon Grandpa."
Nobody trusts colorless candy.  The caramels, peppermints, and candy corns were relatively safe, too.  I liked the butterscotch and root beer hard-candies on occasion but what I really wanted was on the top shelf. 
Grandma knew what we were up to,
"Lloyd, he doesn't need any more candy before dinner!"
But he'd sneak me a stick of Big Red Chewing Gum, anyway,
"Take it, hurry, take it!" He'd whisper.
And Grandma knew.  She also knew I drank her sweetened iced-tea all day long – equal parts water, equal parts sugar.  And that no amount of this stuff could suppress my appetite for her cooking.
Grandma was the best cook in the world.  And, like Grandpa, she knew what I liked…
Crisco-Fried-Chicken, made-from-scratch noodles, and those wonderfully buttery skin-on mashed potatoes. When I got my way I'd have frozen strawberries for dessert and slurp up every last drop of juice in my bowl.
I loved my overnights at Grandma's house.
 *****
If you never believed a square peg could fit in a round hole, you haven't seen my Grandpa solve jigsaw puzzles. 
BAM!
He'd pound it, squish it, and then pound the tattered piece again until he was satisfied.  When he was finished he'd look at me and grin,
"There!"
"Grandpa, it doesn't fit!"
BAM! BAM! BAM!
That joke never got old.  But as I matured over the years, I'd sometimes feel foolish for giggling over this and retreat to the kitchen to see what Grandma was up to in the kitchen…
Butterscotch Pudding.  Grandma knows what I like!
I was always fascinated with how slowly and patiently she stirred that hot pudding, like every little movement had intention and purpose!  Sometimes I'd sneak up behind her and simply watch.  When she caught me spying on her she'd just turn and smile,
"Well Hi!"
*****
Now as I mourn Grandma's passing, I almost feel a sense of "normalcy" again.  As she reunites with Grandpa I have to believe they're both smiling as they realize the gift they left behind, the memories that span generations.  We'll always remember…
Grandma's House.
I couldn't imagine a better sendoff for my grandma.  It was very emotional, sweet, and heartfelt.  It concluded with a rainy grave-site ceremony and a reception at a church in Rushville, Illinois.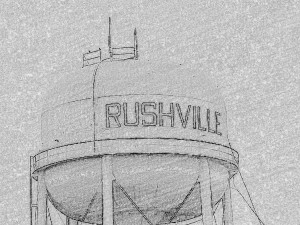 Despite being exhausting and emotional, I felt this was a good trip.  The services were very well done.  I reconnected with some cousins and relatives I  hadn't talked to in awhile.  And I left Illinois with a good vibe (which isn't always the case when I go back home).  Appropriately enough, the trip concluded with a nice snow.  (I LOVE SNOW).
Everything went without a hitch until I missed my connecting flight in Minneapolis.  I thought I'd perhaps misread the departures board because I was sleepy, but as it turns out several people were re-routed due to the same error.
Well, no big deal — except I'd miss most of the Super Bowl!  Or so I thought.  As it turns out, my new flight was one of the jumbo jets with these crazy, futuristic entertainment centers on the back of each headrest.  Internet, games, movies, and most importantly — Live Television.  I watched the first half of the Super Bowl on my flight!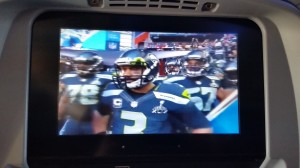 Now, after nearly a 3-week departure, I'm sitting here contemplating my new journey at my new semi-permanent part-time home-base, Las Vegas. I've got my living expenses down substantially with my new camping membership, and that affords me a few options to keep my head above water the next 4 months (until my summer job).  But I also don't want to get too complacent.  As tempting as it is to work for minimal part-time wages and work full-time on my business  — it's also a bit risky, too.  I'm going to need to seek a little more employment than I have at the moment.
But, even though I've been here 6 months, I'm excited about my next 7 months in Las Vegas!  I have big plans this summer.  As my World Series of Poker wages kick in, I'll be putting deposits on a couple shows and then shoving off to Northern California to start my trade show circuit!  I'll be back in business, again.  Assuming all goes well, I'll book a couple more in "SoCal" later in the season and begin a circuit down there.  I should then be able to meander over to Quartzsite in January  to set up as a vendor in the "Big Tent."  I believe things are starting to take shape…