Before leaving my sister's to head down to our belated Christmas celebration at Mom's, a stray dog made an appearance.  None of the outdoor residents seemed too happy about it…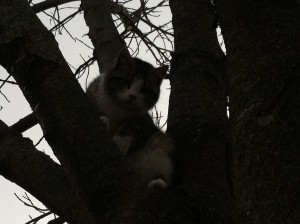 Please excuse my photography.  The entire trip, I was simply too lazy to get out my camera…
It was a pretty nice holiday, but admittedly it felt "odd" two weeks after Christmas day.  Monday morning my sister Valerie and her family got up early with me to head to the airport.  I had to depart without my first gift of the trip, a homemade sign that my "baby" sister Mary and her family made for me…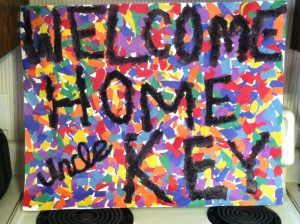 And we did a bit of sightseeing at Cahokia Mounds before lunch…
After filling up on lasagna, it would prove to be a brutal travel day.  I'd only gotten about 4 hours of sleep the night before, so there was little doubt I'd be put to the test.  After being held up at security for a pat-down I had no leisure time at the airport — it was off to Little Rock to sit on the plane for 30 minutes.  We had only a couple minutes there to move around the cabin and change seats before we had to buckle up again — for a 30-minute delay.
By the time we reached Vegas in the evening, my lower extremities were screaming for a good stretch.  But there was no time.  The delay in Little Rock gave me all of ten minutes to find my connecting flight to Reno — it was off to the races.  I wasn't the only passenger to blow right past the tiny, inconspicuous corridor leading to the C-gates.  Several of us had to double back in search of this passage and, upon realizing it's impressive length, picked up our pace to nearly a jog.  I managed to make it…
But it seems several people did not.  In fact, SouthWest Airlines was rather sympathetic — they waited a good 20 minutes extra for these passengers to board.  Another delay.  When it was all said and done, I'd spent almost the entire 8 hours of this travel day sitting in cramped quarters.  I'm  not conditioned for that kind of punishment.
But there's not much to complain about this trip.  It was a really good visit, better than I anticipated.  I got to see my parents, siblings, all my nieces and nephews — fun times! And up til yesterday's flight, everything was smooth and easy. I have to wonder how often I'll be able to get back and see them once my Ultimate Journey begins.  Less often? More often?  It's difficult to tell…
Next Story: Lighting