Click Any Photo To Enlarge!
Where I'm At: Hawthorne, NV
Campground : Whiskey Flats RV Park
Day Trip : Walker Lake
Definitely Worth the Price of Admission
Walker Lake is nestled in the Hualapai Mountains a few miles north of Hawthorne, Nevada on Highway 95. I've passed by this recreation area on several occasions, and couldn't help but wonder why I've never seen many people "recreating" here.
The day use sites alone are worth the price of admission : Free!
The boondocking sites offer not only fantastic views, but also come complete a canopy, picnic table, and fire pit. These are large chunks of real estate. And it can be yours for $6 per day or $32 per week!
And the views? Not bad…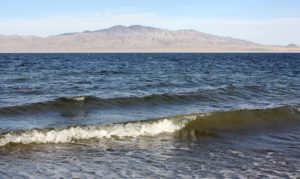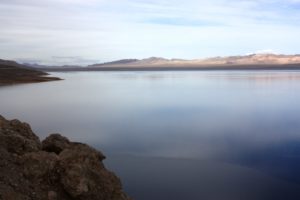 It Is What It Is
It seems many lakes in the West are at the mercy of human agenda. Walker Lake is no exception. It's primary source, Walker River, has been diverted — thereby lowering the lake levels and raising the alkaline density. Fish and bird life have been on the decline over the years. In fact, the boat launch is in disrepair and I've never once seen anyone fishing here.
But it is what it is — a jewel of a campground — no crowds, great sites, and fantastic views at virtually no cost!
"BoonCat"
I've never had much of a boon-docking operation. My furnace, hot water heater, water pump, and battery/electrical systems are in a state of total dysfunction. And it's never mattered much because I've always been a full-hookup guy.
But this trip has been pretty inspiring. It's the second time this year that I worked a gig (both Pendleton and Reno) where I was forced to fork out big bucks for campgrounds — and in both cases I could have dry-camped and saved several hundred bucks!
And casino-camping opportunities keep popping up on my trips. Most casinos outside Vegas have designated areas for boon-docking — and I need to take advantage of this more! I could use these stops as 1-2 day layovers en route to my destination, or even 7-day "out weeks" when I leave the Thousand Trails system.
I'm going to recruit an electrician later this spring to get ole 48 Ugly re-wired for success.