Click Any Photo To Enlarge! " * " Denotes A Definition Available on the Common Terms Page
Current Venue:  Tempe, AZ (Phoenix Area)
Campground: Tempe Travel Trailer Villa

After getting the bulk of my bandages off Saturday, I just had to take myself out for a coffee yesterday.  You do go a little stir crazy after being laid up for so long…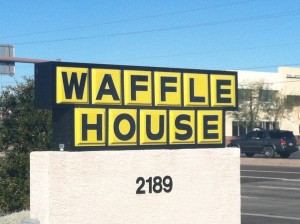 I took in a little of the P.F. Changs Rock n' Roll Marathon…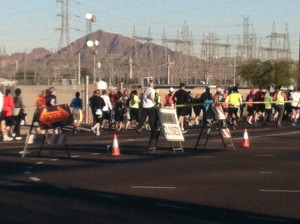 Then I went back to bed and watched my 49ers defeat the Atlanta Falcons in the NFC Championship!  A pretty good day for me.
I'm not quite out of the woods with my condition just yet.  I'll be on antibiotics for a few more days and monitor the situation.  There's only a little pain now — but I'm pretty sure it's mostly from chaffing.
I'm starting to move around a bit and get the homestead back in order.  I'm very grateful that I can take showers again and do laundry.  I hope to get my latest business idea rolling by the end of the week.  I'm bidding on my February shifts tomorrow and am eager to get back to work.  I have a steep hill to climb, but I'm starting to feel some relief and I think I see a glimmer of light at the end of the tunnel.
So, the way I figure I'm about halfway back to "halfway normal" again.
GO 49ERs!