Click Any Photo To Enlarge! " * " Denotes A Definition Available on the Common Terms Page
Current Venue:  Tempe, AZ (Phoenix Area)
Campground: Tempe Travel Trailer Villa

A couple days ago, while bidding on shifts, it became quite clear to me that my co-workers at the poker club simply aren't going to play fair.  With no real supervision in the matter, they abuse their seniority and get away with it.  With only two months left of bidding left, there's no reason to make waves at the moment — particularly as I'm going to be asking the owner if I can come back after working the World Series of Poker in Vegas again this summer.  I sort of have my hands tied.
With my limited March schedule there is a distinct possibility that I'm going to have to "lay low" quite a bit.  Granted, I'm definitely going to some spring training baseball games — there's no way I'd miss it!  But to do that, I'm going to have to eliminate coffee shops and cut down on gas any way I can.  Thankfully, someone gave me a bicycle!  It's not a name-brand, but it's never been ridden and it will do just fine.  This means I can go to the gym and do a lot of spot shopping at the grocery stores rather than wasting fuel.
But there's one more thing I really have to do if I'm going to spend most of my time at base camp — replace the blinds.  I will lose my mind if I don't!  If you've read some of my previous posts, you may know that I've struggled with my window decor since the very beginning of my relationship with 48 Ugly*.   I've so far gone through the original curtains, some custom-made curtains, and two sets of blackout disposable blinds.  The problem with the disposables is they are susceptible to water-and-cat-damage.  When this happens, they are unsightly and almost impossible to adjust at my leisure.  I've been researching other alternatives for quite awhile.  I've opted for a soft blackout material and something more decorative for the inside — both of which I'll simply be able to roll up and clip at the top.  This is the general idea…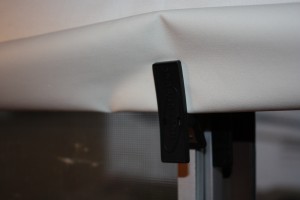 But here is the monumental task at hand.  How does The Ramblin' RiverCat, not a seamstress, cut this material so that it is even on all sides?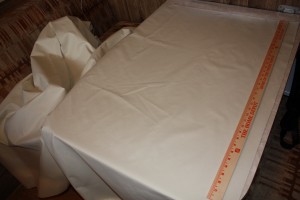 Answer:  Not very well.  Actually, I didn't do as poorly as I initially thought.  While I mulled over why I couldn't quite get them to line up vertically, I discovered that the counter and the bottom lip of this window are not perfectly aligned.  That said, I still don't want to cut the rest of this fabric.  Having attempted this one piece was enough fun for me — I'm going to find someone else to do it!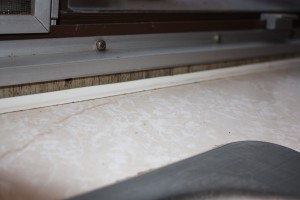 As I contemplated this, a weather spectacle was taking place outdoors.  First, thunder and lightning.  Then hail…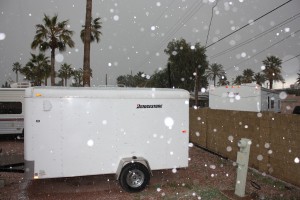 And then a slushy snow and hail mix?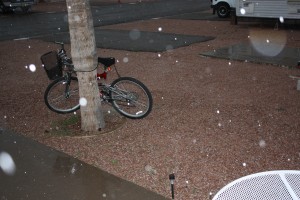 It packed like an icy snow but I'd never seen anything quite like it!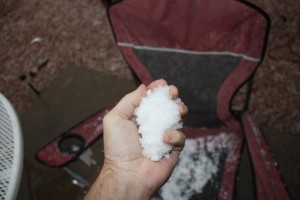 The long-time residents of the Phoenix area, many of which had never seen snow in their lives, assumed that's what it was. (The last snow accumulation here was in 1937 where some parts of the city had up to 4 inches of snow).  Not so fast.  The local weatherman explained that it wasn't snow at all, but instead something called "graupel."  Apparently graupel is are ice droplets attaching themselves to falling snowflakes — the end-product being these icey clumps falling like hail and then packing like snow.  But as far as most Phoenicians are concerned, I believe they'll remember this as snow — something that may not happen again for another century.
But I have proof it wasn't snow.  Since when do you see large, vivid rainbows after a snowstorm?  I now end this post with my beautiful rainbow pictures: