Click Any Photo To Enlarge!
Where I'm At: Reno, NV
Campground : Silver Sage RV Park
Foul Campground Language : The "Concrete Slab"
The Silver Sage in Reno isn't exactly my first RV park. Besides my maiden voyage to Susanville, I've also camped at a handful of parks in my van. But for the most part I have very little to compare it to besides what I see on RV blogs. And from what I've learned from other travelers the past couple years, this park is nothing but a "concrete slab." These are dirty words when describing a campground.
But I've also learned that  a successful RV park typically  gets away with this only when they are in a fantastic location. The Silver Sage is no exception. After all, one of the most beautiful casino/resorts I've ever seen is directly across the street!
In fact, many gamblers will park their RV here and treat themselves to a luxurious room at the hotel. Including me! On several occasions I've been given complimentary rooms at the Peppermill and would literally pack a suitcase and walk across the street for a mini-staycation. But besides Lake Tahoe and day trips to the surrounding areas, The Peppermill is about the only thing I'll miss about Reno.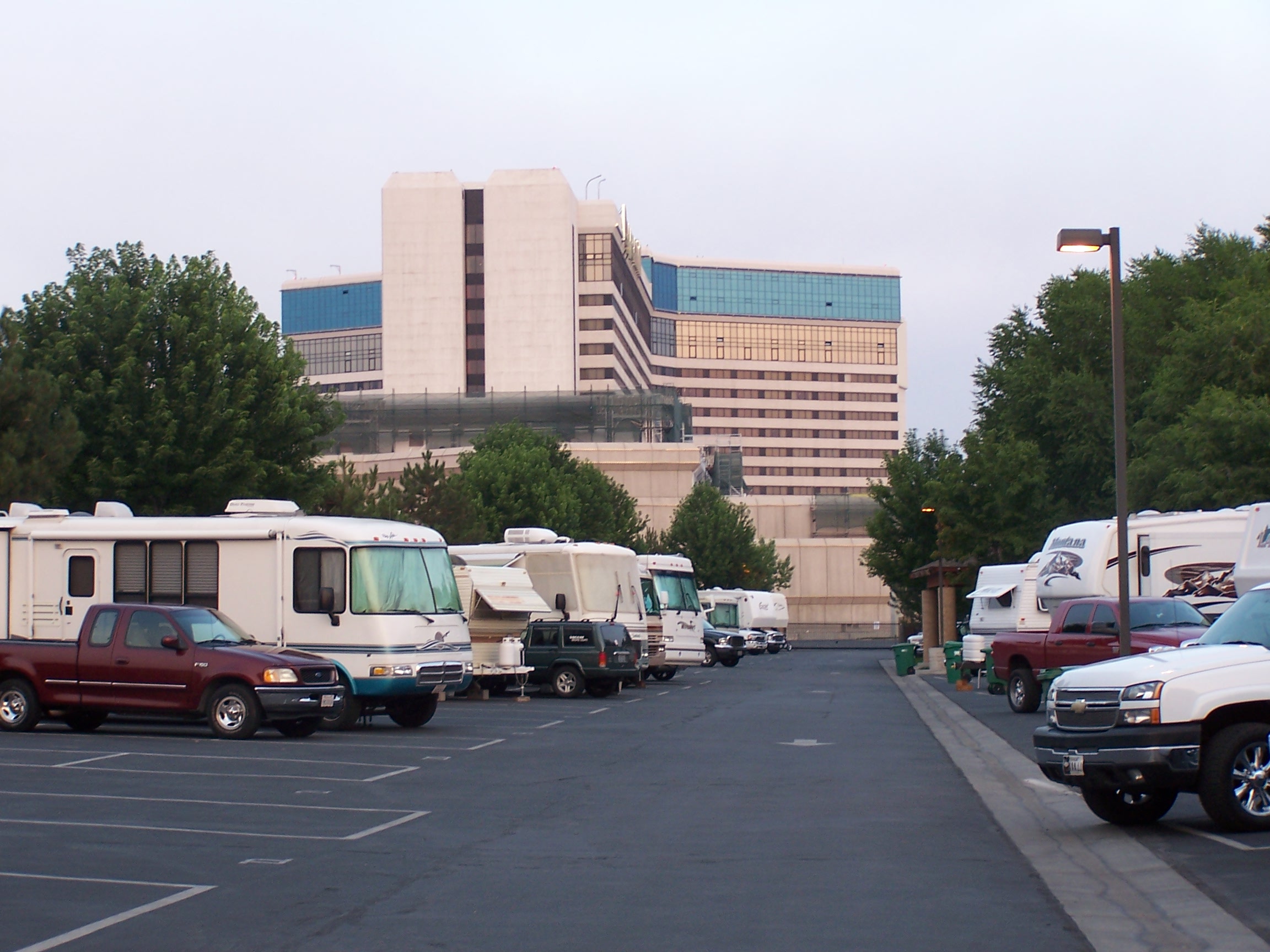 Escape from Reno
When I bought my camper here, I'd taken a job at a local casino as a poker dealer. I had the idea that, with such a good-paying job, I'd surely save plenty of money for the full-time journey and be on the road again in no time. After an investment-gone-bad, losing a stream of income (internet poker), and several high-maintenance girlfriends — I'm finding my savings isn't much better off than when I arrived in this town.
And I don't belong in Reno. It's the pattern of my life — I simply don't fit in any time I try to pretend I can pull off the normal 9-to-5 routine. It doesn't work for me. I feel like caged animal. A misfit. And no matter how much longer I stay, I feel I'll never meet my savings goals. It's like the universe is trying to tell me to leave…
I'm shooting for October.
Next Story: Making a Living on the Road