Current Venue: Springdale, AR
Campground: Pilgrim's Rest
Click Any Photo To Enlarge! " * " Denotes A Definition Available on the Common Terms Page
Recently Updated : Written in Jello
I remember Nolan Richardson's Final Four teams years ago.  The Arkansas Razorbacks men's basketball program had 6 appearances in the Final Four and were the cream of the crop years ago.  Times have changed.
Don't get me wrong.  They're decent enough to belong in the SEC and are one of the many big schools who post winning records against non-conference opponents.  But as the NCAA tournament approaches, it's hard to imagine that this once-great powerhouse is on the outside looking in — with only a glimmer of hope to qualify for the tournament.
It was the South Carolina Gamecocks versus the Arkansas Razorbacks.  South Carolina's Brenton Williams scored 29 points.  Despite that, it never felt like the Razorbacks were going to lose.  Michael Qualls led the way with 20 and some timely baskets and the Razorbacks were in control most of the way.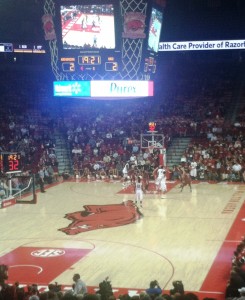 The sparse crowd had a strange feel to it — mostly "middle-aged folks" like me.  The atmosphere definitely lacked the "electricity" of a major sporting event.  Maybe it was just a letdown after Bill Clinton and Nolan Richardson's visit on Saturday.  Or maybe the fact the Razorbacks are only 6 -7 in the SEC.
I'm still trying to determine if I'll be staying awhile.  I have the first phase of repairs done.  I had my first interview.  But it seems I now have about a 70-80% chance of a gateguarding job in Texas.  My strategy now is to continue applying here and San Antonio over the weekend.  Then have Memphis Red checked over again before I make a decision.
So, the Ozarks or Texas!  What does spring of 2014 have in store for the RiverCat…