Click Any Photo To Enlarge!
" * " Definition on Common Terms Page
Current Venue: Las Vegas, NV
Campground: Thousand Trails
Having lived my first 3 years of The Ultimate Journey in constant crisis mode, purchases have been few and far between.  Big purchases have been non-existent.  I've been needing new "stuff."  Something, anything, to improve my quality of life.  Sometimes it pays to do a little research…
My original intention was simply to dismantle my expensive bundle with Verizon Wireless.  While I like Verizon's coverage, I was a little tired of them telling me they couldn't save me any money.  Feeling it necessary to get a Vegas area code for my business phone, I went to Sprint.  I started off saving money, nearly $70 per month.  But, for several reasons I won't go into, I realized I may need two phones for awhile, and my Verizon iphone could not be switched over to Sprint.  I had to purchase a new one.  So, long story short, I ended up paying between $20-30 more per month than before.  But this includes the financing on 4 new devices.  And no bundles.  Here's what I got :
But I wasn't finished.  I've been spending nearly $80 per week in gas driving ole Memphis Red*.  Additionally, I'm very limited on where I can park an 8-foot tall van at the casinos.  But I couldn't afford even a used scooter.
I looked into financing a new one.  Despite my financial difficulties, I miraculously still have terrific credit.  I'm still in disbelief, but yesterday I brought home my new ride…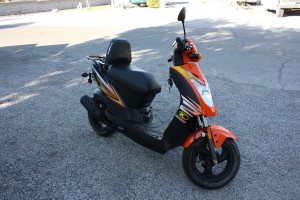 I haven't paid a single dollar yet and I pretty much never will!  For $0 down and $50 per month, I got to bring home this beauty.  By the time I make my first payment in August I will have saved around $280 in fuel — nearly six months payments.  (Of course, if my mother catches wind of this, she'll be worried about my safety.  So, rest assured, I'm devoting the entire morning of Tuesday July 1st to research my health insurance options).
So, with all my new toys I'm saving $200 per month while improving my quality of life!  A good sign that Vegas has good things in store for me.  Just about 3 more weeks before I begin my new adventure of making ends meet here and truly settling in — still a long way to go but I'm feeling hopeful…