Click Any Photo To Enlarge!
" * " Definition on Common Terms Page
Current Venue: Las Vegas, NV
Campground: Thousand Trails
I can't even begin to explain how grateful I am to have full access to sports on TV.  We have a "football crew" that dominates the clubhouse on Sundays.  We each have different roles.  Mine is to arrive at 10 am to get the television cranked up as church service as soon as church service lets out.  This is necessary so that other members don't sneak in to watch an entire day of CNN.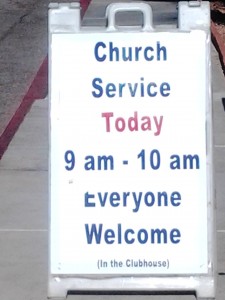 The early games start at 10 am.  I generally stand patiently in the shade until the first couple exits the clubhouse at around 10:15.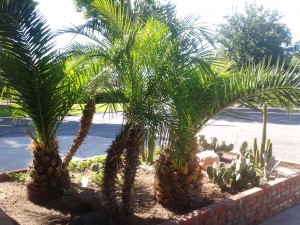 I then turn on NFL RedZone, but keep it on mute to allow church members to visit for a few minutes longer.
Shortly after an elderly gentleman, Bob, joins me on the couch — he's recovering from a severe heart attack last year commonly referred to as a "widow-maker."  We then turn on the volume and wait for the rest of our posse to arrive.  Don and his son, Luis — Don is a portly fellow with a booming voice, a former construction worker in Alaska.
Throughout the day our semi-regulars (and a couple staff members) file in and out to catch the games.  With an hour break between the afternoon games and Sunday Night Football, Bob usually holds down the fort while the rest of us grab a bite to eat. Don then takes over the late shift and watches over Monday and Thursday Night Football games for us.  It's a good system.
The activities director has fantastic.  She's been consulting with us on the football schedule to rearrange activities around our schedule!  Very cool.
And there are bonus sports in October : The Major League Baseball Playoffs.  My St. Louis Cardinals are taking on the Dodgers in the Divisional Round.  And, while they are taking care of business, an incredible underdog story is developing in Kansas City…
The Royals, who haven't won a playoff game in 30 years, won an amazing one-game wildcard playoff against the Athletics in which they came back from 5 runs down in the 8th and eventually won in extra innings.  They then took on the mighty Angels and swept them 3 games to nothing!
It's nice to have these distractions as I try to make my way in Las Vegas.  Right now I'm spending half the week for appointments and job-hunting.  The other half I'm trying my hand at my new at-home sales job.
I believe October will finally shed some light on my immediate future here…