Current Venue:  Tempe, AZ (Phoenix Area)
Campground: Tempe Travel Trailer Villa

Click Any Photo To Enlarge! " * " Denotes A Definition Available on the Common Terms Page
This picture reflects my mood perfectly at the moment…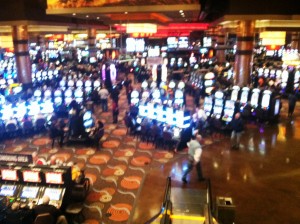 And I say that specifically because it's a blurry picture of a casino floor (I'm coming down the escalator at Wild Horse Pass).  What I mean to say is things are just starting to come into focus for me after the misadventures of 2012.  I've been meditating and keeping a personal journal of my thoughts nearly every day.  Here's what I'm realizing:
1.  I need to become passionate again about the things I do well.  I AM a poker player *.  The past few years I've been denying this because of the fluctuations involved with the game, the stigma of having a less "legitimate" profession than most, and the gambling degenerates I have to deal with on a daily basis.  But this is a small price to pay compared to working for an actual employer — and I've paid dearly each time I've attempted to do so.  I always scare myself into working for someone when my savings got low; and it always seems to cost me monetarily and spiritually (of course sometimes it will still be necessary).  And my poker game always suffers as a result.  In over 12 years playing the game, I've produced an income all but one year.  It's evident that I'm better at this than I am working for someone.
I LOVE the adventure of bouncing around to different casinos.  And yet for a long time I've been denying myself this pleasure so I could stay focused on my projects when I'm not actually sitting at a poker table — so I'd been making a bee-line to the poker room, then straight back out to my car.  Not any more.  The reason I started playing poker in the first place many years ago was that it could support my nomadic, adventurous lifestyle.  It's time to nurture my adventurous spirit again, wander around these resorts, and take advantage of my food comps.  It's fun!  And that's what it needs to be again — fun.
I AM an entrepreneur.  I'm a lousy businessperson (accounting, tax write-offs, technical legalities, etc) but I do have the ability to create services that sell.  In previous years, when I tried to run my former business while playing poker for a living, a lot of my circumstances were different than they are now.  These days, I do have the ability to run a business and play poker.  My new business is now in development.  In fact, I'm ready to use Phoenix as my test market and will begin my prospect list this week.
2.  What's my hurry?  Ok, so I only did 3 states during the first year of The Ultimate Journey".  So what?  Who says I have to get 48 Ugly* to the Lower 48 in just three years?  I'll take ten years if I have to — full-timing is a lifestyle, not a race!  If I hit another bump in the road, it's just part of the fabulous adventure.  If I find myself with a partner I'm happy with, then maybe I stick around and just be happy.  The possibilities are endless — and life's little adventures come right after the other.  I've gotten so relaxed about this, I even considered staying here a couple months after I work in Vegas this spring just for the mere sake of dining out here more when I have a bit more money to spend…
For now on, I'm "Mr. Flexibility."  If I get stranded again, so be it!  It's all part of …
The Ultimate Journey.