Click Any Photo To Enlarge!
" * " Definition on Common Terms Page
Current Venue: Las Vegas, NV
Campground: Thousand Trails
When it rains, it pours, right?  For the past week or so I've sort of been "ignoring" the progressive leak of the brand new hose I just purchased.  The yellow-twisty hoses simply don't do the trick.  I'm willing to upgrade, but I'm hoping to get through the 100-degree temperatures before buying a new one.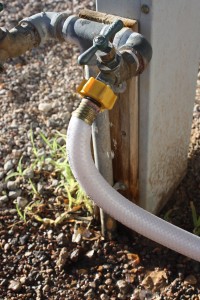 Another issue I tend to have selective memory with is my ongoing challenges with 48 Ugly's * wiring. Three years ago the air conditioner kept tripping the circuit during a hot Las Vegas summer.  I replaced this "breaker" (the blue and red switch combo) but things started getting "trippy" again this summer. Last night the A/C did a rare trip int he middle of the night.  Only this time, the entire contraption "popped out."   After a few minutes I was able to wedge it back in and flip the switch.  Clearly, it's only a temporary fix.  I'm hoping to take a better look at possibly securing it again when it's not 100 degrees or the middle of the night…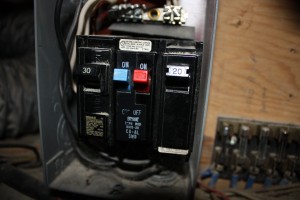 Last week the power in the park was shut off a couple times for maintenance.  For whatever reason my refrigerator has not run off electricity since then.  I inspected the unlabeled fuses — but they all appeared fine.  At least none of the filaments were burnt.  I lost half my produce, and then switched to gas.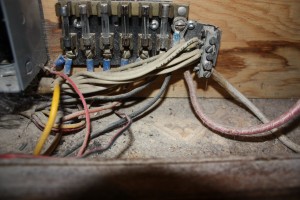 So, any clues as to why the power outage fried my fridge?  Or why the circuit contraption "popped out" thereby knocking out the rest of the power until finessed back in?  Feel free to clue me in at keyward9@gmail.com.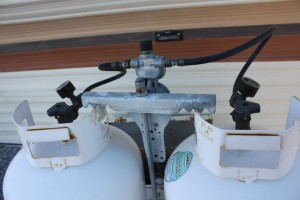 Last night my propane ran out.  Moldy spinach, thawed chicken, foul cheese — I lost most of the rest of my groceries.  I scrambled 8 turkey burgers and crammed them into the freezer with a bag of ice.  (Propane is available again tomorrow during normal business hours).