Current Venue:  Tempe, AZ (Phoenix Area)
Campground: Tempe Travel Trailer Villa

Click Any Photo To Enlarge!
This weekend I took in the Festival of the Arts in downtown Phoenix.
I enjoyed a little music…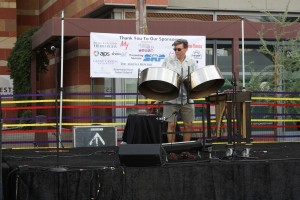 Did a little people-watching…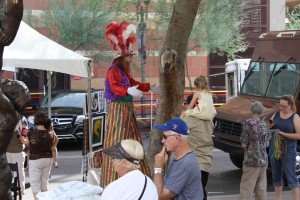 And took in a couple performances.  One of these was a gentleman named Dustin Loehr, an entertainer who uses tap-dancing to tell stories — very unique!  I then took in a film festival — where independent film makers showcase their short films and then participate in a Q and A session.  On one occasion, the entire cast of a western called Copper Wind came in full costume and sat amongst the audience members during the presentation.  One cowboy sat next to me.  I'm grateful it wasn't a comedy because I simply don't like to "fake-laugh" for the benefit of others.  Oddly enough the actors were never introduced.  After the director was interviewed — they simply got up and left!
After spending the day at the festival, I wandered around downtown for a bit.  Hotel San Carlos was once the tallest building in Phoenix and is famous for it's ghost residents…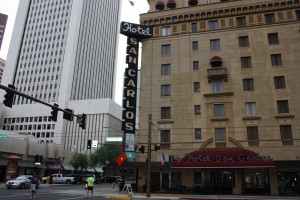 I just found this one particularly cool because the entire exterior, including the windows, is copper.
I like shiny things…