Click Any Photo To Enlarge!
" * " Definition on Common Terms Page
Current Venue: Las Vegas, NV
Campground: Thousand Trails
Well I'm now 43 years old and Jeepers is 65 in human years.  It seems dealing with our health issues is a part-time job this fall.
After being bounced around to several specialists, my new family doctor seemed surprised that I wasn't aware I had a history of lung disease!  Nope.  Nobody had bothered to share this with me.  The next tests should determine if the disease is active or if it's mostly just dead tissue.  It may take weeks to actually get in with a pulmonary specialist and then back to my doctor, again.  Welcome to Las Vegas medical care…
But at least it explains my respiratory problems.  I guess this large nodule is prohibiting my lungs from expanding properly.
I've decided it's no excuse.  I can still exercise and at least attempt to get back into shape.  I'll take it slow in the beginning.  I bought a tennis racket and, when I can, I play off the 8-foot barricade that encloses the resort.  I'll try to add a new activity every month until my doctor tells me not to.
Jeepers has had a rough time, as well…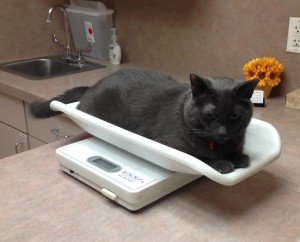 Not only did he have to get some teeth removed, his irritable bowel syndrome and drippy eye all acted up at the same time!  At one point I was giving him five different medications and constantly treating the scabs that developed from the eye problem.  In the end, he still had to had another trip to the vet to receive an enema for his IBS.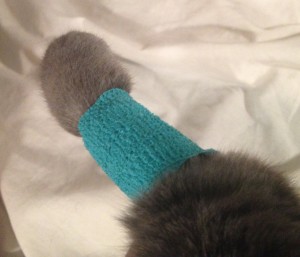 And now, for some good news…
I don't want to jinx it yet, as the next 5 weeks should give me a better idea — but I may have found my niche in Las Vegas.  If it works out, I'll not only make a living here but also do it on my own terms!  With the flexible schedule I should be able to work on getting my business going again.  Additionally, I could leave town whenever I want.
It's still premature, but I daydream that I'll be travelling sooner than the original 3-year plan!  A year from now I like to think I'll be on my first 1-2 month trip — and then keep extending the trips until I can take off the training wheels.  I can now see Vegas as a more permanent home base where I spend 3-6 months of every year!  That idea doesn't bother me any…
The next 5 weeks will reveal more.
Hey, I'm heading to Quartzsite!  If any of my friends out there want to meet up, I'm tentatively scheduled for January 25-29th. Please drop me an e-mail at keyward9ATgmail.com if there's a possibility we might cross paths!