Click Any Photo To Enlarge!
Where I'm At: Descanso, CA (In the San Diego hills)
Campground : Oakzanita Springs Thousand Trails
Day One : Sand Dunes and Switchbacks
I rely heavily on my Mountain Directory West to help me avoid steep grades.  And, while the passes on Interstate 8 near San Diego are probably not the worst, the area is also known for high winds. I opted for a route that appeared to relatively easy — Route 78.
The majority of the route was a piece of cake! The world-famous Imperial Sand Dunes (also called "Glamis") have been featured in Star Wars and several other films. It's the largest area of it's kind in the U.S. — 40 miles in length and 5 miles wide. It's truly a magnificent site…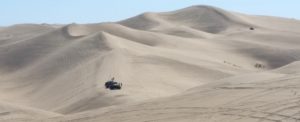 I was within 40 miles of my destination there were signs my day was about to get interesting:
"RV's Exceeding 40 Feet Prohibited."
"RV's Exceeding 30 Feet Not Recommended."
Every now and then Mountain Directory West misses one.
With 3 hours already invested there was no turning back. Instead, I would just turn. And turn, and turn, and then turn again. The sharp switchbacks, while not terribly steep, took two hours to navigate!
Day Two : A Major Wind Event
After a 4 days with electricity and a tough travel day, I was looking forward to enjoying the luxuries of running water and light. It was time to reorganize, regroup, and get some laundry done! But it seemed the San Diego area, particularly hill country, was preparing for a "major wind event."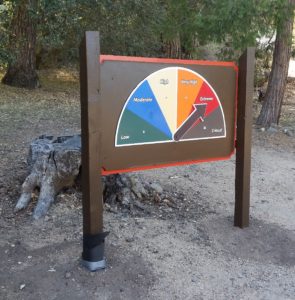 Apparently this happens 3-4 times per year. And, after seeing blips on the news, campground literature on how to prepare for one, and a few other indications I was going to get the opportunity to experience one — I came pretty darn close to getting myself ready for it!
The wind was really howling. It had already done some minor damage in the park by the time I got my towels in the washer. And, just I was about to get my backup propane tank filled, the power shut off! California takes wind and wildfires very seriously. In these hazardous conditions, the power company doesn't wait around — they shut it down.
Thankfully, my campsite is situated on a ridge with a bit of ridge behind the tail end of my camper where the winds were coming from. And, oddly enough, I experienced very little rocking from the storm going on around me — almost like I was in the eye of a hurricane the whole time! In fact, my 20-pound wet towels never even completely dried…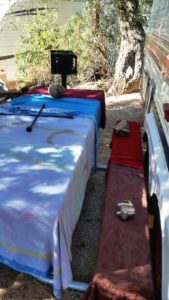 Day Three : Pie Country
Even after the storm subsided there were still some small villages without power. It's a good thing Julian was not one of them. I'd hate to miss out on this little gem. Welcome to pie country…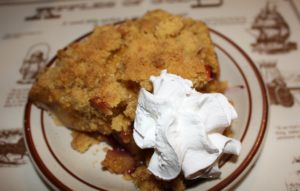 With maybe a dozen pie shops in this tiny mining town, this place is heaven for anyone with a sweet tooth. I opted for a warm slice of apple-boysenberry. Simply heaven.
Of course, the kiddies may prefer a cellar full of candy at the Miner's Diner…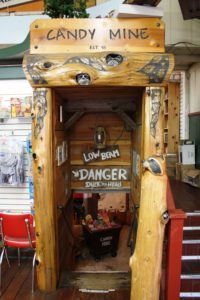 Day Four : Breathing Easy
I totally had other plans for Day Four. But I woke up to a wonderfully calm overcast day…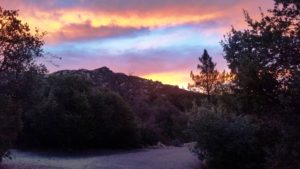 I couldn't tear myself away. I hiked around the park, got some exercise in at the pickleball court, visited the clubhouse, and enjoyed picnics at my site. With not even a single breeze, I actually sat outside for hours reorganizing my files. It was a good day.