Click Any Photo To Enlarge!
Current Venue : Nicolaus, CA
Campground: Lake Minden Thousand Trails
Strangest trip ever. It started off disastrous, with multiple breakdowns and repairs. This made it difficult to focus on poker. I struggled, but ultimately qualified for the Main Event at the Ante Up World Championships. I figured after all my struggles, a big cash would be a perfect ending to a rotten story. I played lights out — only to get within 2 hours of making the money. Deflating. But hey, then I could relax for a week and do some sightseeing in the Sacramento area…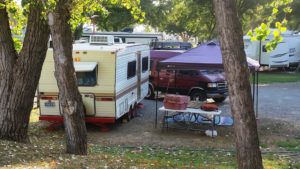 Now, with two days left of my two-week stay at Lake Minden, I've done absolutely no sightseeing or exploring. I can't say I've been totally relaxed, either. More like — beat. In fact, I was feeling rather defeated in more way than one when, oddly enough, I decided to do some deep cleaning! It actually seemed like the only natural thing to do under the circumstances.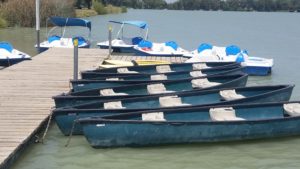 I've been elbow deep in grime and dust for a couple days now, enjoying some books-on-cd. Have I wasted my time here? No. This will be a regular destination — as there are several major poker events here throughout the year. And now I know the lay-of-the-land here. I'll be ready.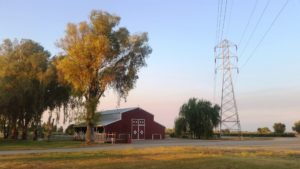 I have one last repair — the black water tank. But I can't get it to dry out completely! It seems the toilet valve has been slow-dripping into the tank for nearly 2 weeks. If I can't repair it tomorrow, it'll just have to drip on my journey back to Vegas. My next destination is Oakhurst Elks Club near Yosemite. They have no facilities. But it really is a slow drip, and it doesn't sound as if I'll have any neighbors. I doubt anyone would notice much when I make it back to Tehachapi, either. In fact, I may not worry about it at all until I get back to Vegas.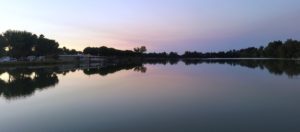 It's just starting to sink in that I'm free to travel full-time, again — at least 10 months out of the year. Of course, here I am, heading right back to Vegas for a 2-week stint. But now it's just a pit stop! In the event my new business venture moves too slow this September, I'll be right back up here for a tournament at Stones Casino in Citrus Heights, then to Reno for a week, then back here for another HPT event at Thunder Valley.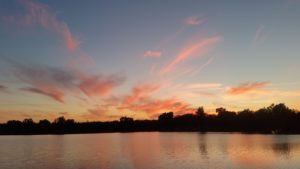 Options everywhere. Life is exciting…