Click Any Photo To Enlarge!
Current Venue : Chowchilla, CA 
Campground: Arena RV Park
Wait a minute. My destination was Oakhurst Elks Lodge near the entrance to Yosemite. Welcome to more misadventures of the Ramblin' RiverCat! My alarm did not wake me this morning. I needed to get up early to beat the heat before climbing the hill. My late start had me attempting this mountain at 1 pm rather than the originally-planned late-morning climb.
Still, I tried. I'd guessed it to be in the 90's when I started my ascent. More than halfway up I was baffled as to why my engine kept trying to overheat! I conceded a loss, tucked tail, and descended back into the valley. As it turns out, it was 105 degrees.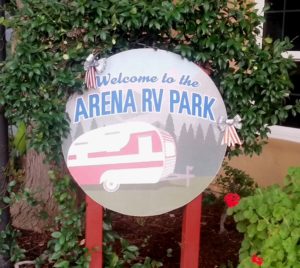 So that is how I ended up in Chowchilla, California. The name of the town evidently translates to "murderers" and is derived from the violent Chaushila tribe. It's home to two prisons, as well. It's also famous for a 1976 kidnapping in which 26 schoolkids and a driver were held hostage in an underground moving van at a rock quarry.
To me, it seems more like a peaceful farming community…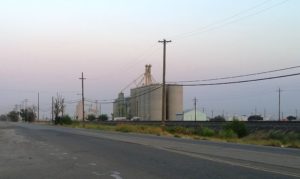 Chowchilla clearly caters to freeway traffic — with visible signage everywhere inviting RVers and truckers to stop in…

I still like highway campgrounds. I love sitting in my lawn chair and watching the headlights appear on the horizon, and then fading into distance. It's as if the hustle-and-bustle and stress of everyday-normal life is an alternate universe that I've somehow transcended.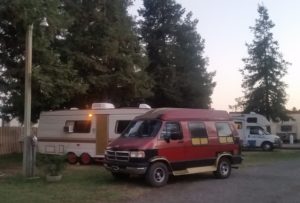 Arena RV Park is a no-frills campground. The one neat feature, however, is an immaculate outdoor kitchen…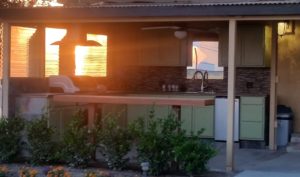 This is what RV misadventures are all about. So I didn't make it out of Vegas on Day One. So what — I got to enjoy some pool time at the upscale Oasis resort! So I got stranded in Tehachapi. Perfect — it gave 7 nights to fall in love with an absolutely fantastic area! And so what if I missed yet another destination — I got to relax and enjoy the simplicity of a little highway pit stop — which is what I probably needed.
Who knows? Maybe there will be another unexpected adventure on my way back to Tehachapi…