Click Any Photo To Enlarge!
" * " Definition on Common Terms Page
Current Venue: Las Vegas, NV
Campground: Thousand Trails RV Resort
Yuuuuppp.
I chained my van to a tree.
My handyman is a good ole boy from Texas and, after welding my broken spare tire mount, he insisted we could straighten out the bent frame by chaining it to a tree and pulling forward a little at a time. I allowed my Inner Redneck to trust him.
It worked!
My ongoing home improvement project has been my van makeover. After discovering good paint under the oxidized surface, I buffed the entire vehicle. Unfortunately, the top was beyond repair, with a severely damaged clear coat. I tried vinyl, instead. I finished the top with a $30 roll. So far I'm very satisfied with the results.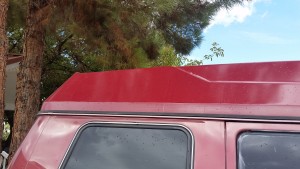 I'm now tackling the side panels with burnt-in decal remnants.
Other late improvements include adding more red to 48 Ugly.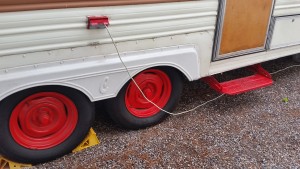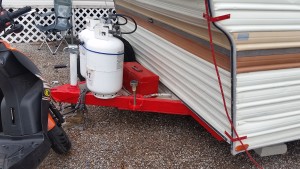 I think my favorite touch-up may be my old-rusted-toolbox-turned-treasure-chest — made possible with a little splash of gold…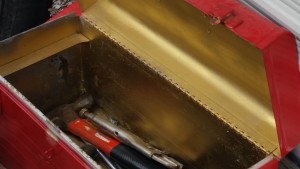 I'll probably stick around Vegas until at least December. I'm looking for a potential working-vacation (trade show) opportunity in Southern California or Arizona, but haven't found the right one, yet. If that doesn't work out, I may spend the holidays near Sedona before heading to Quartzsite in January.
Being a special events poker dealer at The Venetian, I'm required to work about 5 months out of the year. I also have the option to pick up additional work year-round at my convenience. It's a terrific opportunity to travel when I want and starting my business, again. It will be interesting to see how things unfold as I pay off debts and have a little savings to play with about 3 years from now. Buy a nice condo as a vacation rental when I'm traveling? Travel 6 months out of the year? Eight? Twelve?
I can only guess these days. For right now, I'll just enjoy the recovery process after 4 years of misadventure…