Click Any Photo To Enlarge!
" * " Definition on Common Terms Page
Current Venue: Kanarraville, UT
Campground: Red Ledge RV Park and Campground

Cedar Breaks is about 20 miles east of Cedar City. With a lot of 4-8% grades, the ascent to 10,000 feet is quick, but the really cool thing is you can practically coast all the way back down and save a few bucks on gas.
The canyon at Cedar Breaks is spectacular and deep.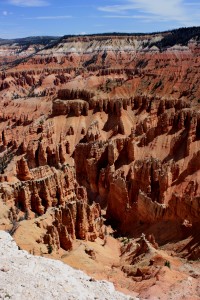 There is much ado about Bristlecone Pines here.  The oldest tree in the world is a Bristlecone Pine, nearly 5,000 years old. A ranger explained to me there are a few in the park over 2,000 years old. They are so durable that they are often seen where other trees cannot survive in these harsh winter climates at this altitude.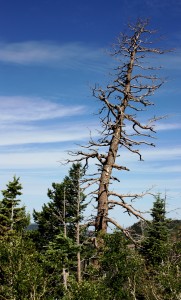 This is one of two places in Cedar Breaks that has a railing.  I was stunned when I really observed the sheer drop-off of some of these cliffs. There's one bare ridge in particular that I'd watched about a dozen small children walk across without a care in the world and, while the path was plenty wide, one slip on the loose pebbles could send someone sliding down a steep embankment (bare of any trees or shrubs, only loose rock) and over the edge to certain death. I would be very surprised if it hasn't happened before.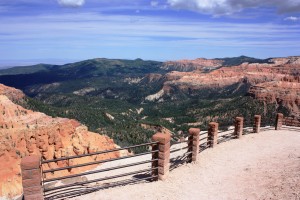 What really amazes me about Southern Utah is that these treasures are everywhere. You can't go 5 miles without seeing something spectacular. I've already talked to several campers that really regret not knowing this and wishing they'd had at least 2 weeks instead of the 2-3 days they'd allotted for this area.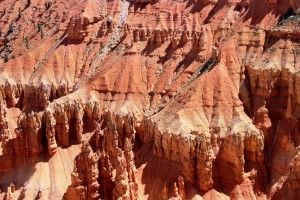 I'm actually amazed that I'm here and that it's less than 3 hours from Las Vegas! It's a different world up here. And as long I make Vegas my home base, Kanarraville will easily become my regular refuge from the brutal desert heat.