Current Venue:  Redding, CA
Campground:  Sacramento River RV Park
It's been raining pretty steady for a 24-hours now.  It's actually rained every day for quite awhile, but yesterday was the first real downpour since my last "Camping in the Rain" post.  This has been the first test for the leaks I repaired.
First, the good news.  After sealing the porch light, the electricity hasn't shorted out.  Additionally, I seem to have guessed right on the bathroom leak!  Of all the problems I thought I might fix on my own, I figured this one to be the least likely because I simply didn't know where it was coming from.  But, I took a stab it it, and it seems to be holding up.  Dumb luck.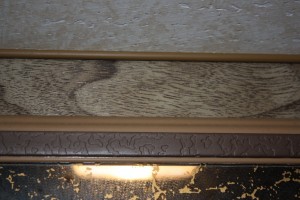 Here's the bad news.  After caulking the fixture holding my storage bin, the leak in my cabinet managed to make a comeback during this heavier rain.  I remember before, however, it would leak even during lighter rains.  For now, I'll cover it back up with plastic.  Then, when I come back from Reno and things have dried out, I'll try touching it up and hitting a large bolt on top of it.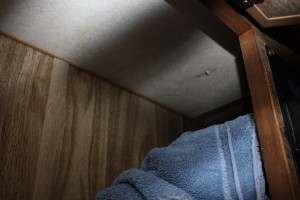 Now here's the one that's really bumming me out at the moment.  The skylight in the kitchen has developed a new leak!  Three different experts have spent hours on that portion of the roof.  My last handyman did it twice.  This one is really, really frustrating.  If I'm not confident this leak can be repaired, I'd be tempted to have the skylight removed.  After all, I really only use it to air out about 10 times per year.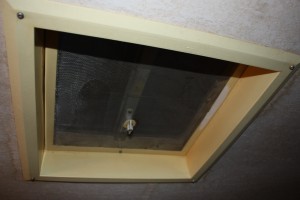 I have to be a little concerned about this roof.  I'm probably not going to encounter anything much worse than this weather in the next few months but, when I wander into someplace like Oklahoma and take on a real thunderstorm, I wonder how things would hold up.  If I land work during monsoon season in Mississippi, well — just forget it.  I'd have to rig an unsightly tarp, for sure.
First things first.  My sights are on Reno.  Last night I worked more on my trade show presentation and did a little rehearsing for my seminars.  I booked my hotel a couple days ago.  I'm going to drop Jeepers off at my sitter in Reno and stay at a  resort in Sparks (away from the casinos that I might run into my former acquaintances).    I feel about as prepared as I can be as a first-time exhibitor with something new and innovative as my idea.  It's either going to be well-received or a total flop, probably not much in-between.  I'm prepared for either.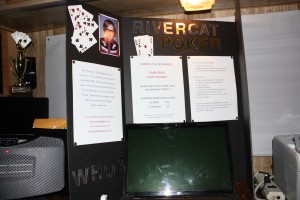 I've already determined I'd go ahead and pick up Jeepers after the show and head towards Sacramento, with the fantasy I'd play my way back up to Redding.  I've never played an evening session at the most famous cardroom in the Sac area, Thunder Valley, and I think it's about time I did.  I'm being pro-rated at the park here in Redding, so I don't mind if I pay a little for Motel 6's as long as I'm making money.  My goal?  Pay for all my travel, lodging, and food for the entire trip before I get back to Redding.
Next Story: Deep-Fried Green Beans