Current Venue:  Tempe, AZ (Phoenix Area)
Campground: Tempe Travel Trailer Villa

Click Any Photo To Enlarge! " * " Denotes A Definition Available on the Common Terms Page
Despite having been here more than a couple months, I'm still a tourist!  In fact, I'm only getting started.  Today I did a 3-for-1 : A bus tour of the area, shopping in Scottsdale, and a ghost tour in downtown Phoenix…
I began the day meeting with the tour group I'll be working with  in Old Town Scottsdale.  The owner drove us the entire route as we bounced ideas off each other.  As we were doing this, I guess Jeff realized I'd be well-suited for the tour guide position!  We're supposed to get together soon to go over the details of my new ticket sales/tour guide designation.  I didn't get many photo ops during this little business trip, but I insisted on this one…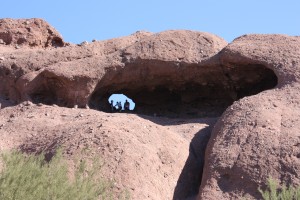 Then, after I was dropped back off in Old Town, I did a little exploring.  It seems every one of my trips to downtown Scottsdale has been very abbreviated for one reason or another.  This time was no exception.  I can't leave Jeepers alone for 12 hours at a time, so it was imperative I get back to camp at some point.  I did manage to get in a tiny bit of shopping, however.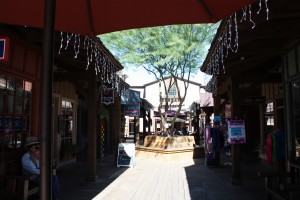 Here's a wonderful piece of abstract art that I did NOT purchase!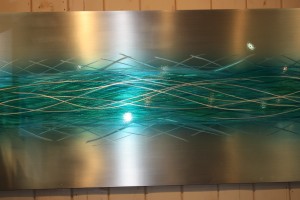 It turns out the gift shops here have the greatest selection of tin signs I've ever seen!  I purchased only two for now…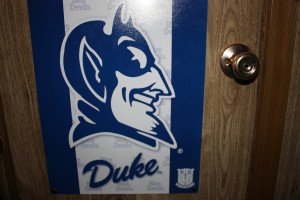 In the evening I took the  light rail to downtown Phoenix.  The ghost tour turned out to be a nice evening stroll with some interesting storytelling.  I did enjoy it but  did not find any evidence of apparitions on this evening.  In fact, with the prospect of being a tour guide in the near future, I found myself observing how the tour was run more than anything.  I did get a decent iPhone shot of this abandoned building under the moonlight…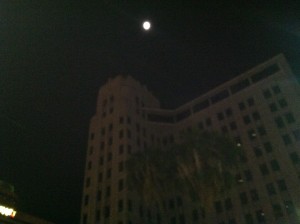 The weather has been amazing!    After running the A/C nearly non-stop during my summer in Vegas and Phoenix, I feel like my ears are going to pop when I turn it off.  The silence is almost deafening!