Click Any Photo To Enlarge!
Current Venue: Laughlin, NV
Hotel : Edgewater Casino
Before I became an RVer I traveled the country full-time with my girlfriend, living from motel to motel. It was during this time, nearly 15 years ago, that we decided to hang out in Laughlin for a few months. We began our stay at Desert Rancho in Bullhead City and I took a summer job at Riverside Casino.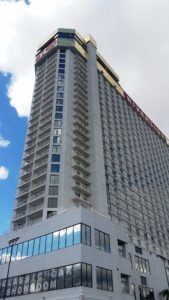 Laughlin is about 5 degrees hotter than Las Vegas but my commute to work made this quite tolerable…
Our stay in Laughlin only fueled our RV dreams, every day gazing in wonder at the drycampers in nearly every casino lot in town.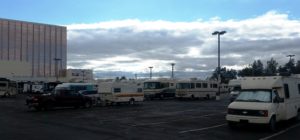 Just as we began discussing moving into a more modern living situation up the road, our plans got postponed…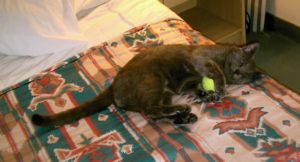 We'd left the door ajar one day as we were bringing in groceries and this little guy was tearing into a loaf of bread! It was clear he hadn't been around people much. He was so scared after I'd shut the door behind me he was practically bouncing off the walls trying to find his way out. Finally, when he got really frantic, I opened the door to turn him loose. Naturally, I never expected to see him again.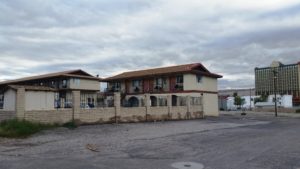 The next morning I opened the door and there he was! The skin-and-bones Russian Blue waltzed right in like we were best friends all along! We quickly fell in love with this playful and affectionate bundle of energy.  He earned his name one day when he ambushed Michele and she screamed out, "Jeepers!" We decided to feed him for a week before taking him to the local veterinarian/shelter.
Some of my favorite memories of Jeepers was when I'd slide open the bathroom window and call him.
He would always come sprinting out of his hiding spot like a bolt of lightning and be at our front door in less than 2 seconds!  In fact, I'm not exaggerating when I say he was a blur. We could have named him "The Flash."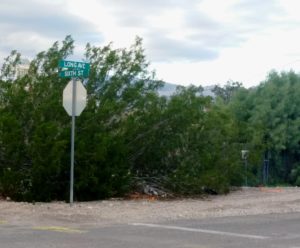 Well, we couldn't very well take this cat on the road with us. After we fattened him up a bit we dropped him off at the shelter and then worried ourselves sick over the next few days. Finally, I had to call and check on him. After one week in a cage, the shelter had not even processed him for adoption and said they would probably euthanize him. Stricken with guilt, our fate was sealed.  Especially mine, as I would eventually become a single parent. Jeepers became my best buddy forever. I couldn't ask for a better friend!
Our travels took us to over 30 states together since we'd left Laughlin. It had been over 10 years since Jeepers had been within 20 miles of his birthplace (although we'd camped several times over the hill in Cal-Nev-Ari). What are the odds then, that we would come full-circle and he'd breathe his last breath here?!  I can tell you twice I'd made an appointment to put him to sleep in Pahrump over the holidays and was even en route to the vet on one occasion –when he insisted it wasn't time yet…
It wasn't until mid-January that I happened to bring him to Laughlin for a 2-day dealing job. He got terribly sick again — and I think this time we both knew this was it. He was such a good boy in the end. He made it so easy and I couldn't have been more proud!
Maybe he just wanted to come home. Maybe it was fate.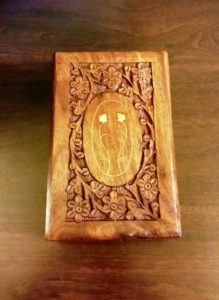 As I spread some of Jeepers ashes at his old stomping grounds, I was amazed that everything looked exactly the same as it did those many years ago — the old motel is still in operation and the vacant lots still remain — exactly the same!
I'm also surprised that much is the same with me — and I haven't been torn apart with grief. Maybe it's because I'm so busy planning and turning my attention to my own health issues. Perhaps it still hasn't hit me yet. But I really kind of believe I'm pretty much at peace and that he's still with me in some way — whether it's simply his memory or he's actually keeping me company. All I know is that when I think of him, it's pretty much all smiles. I think if I could talk to Jeepers in plain English right now we'd agree we had a really good run. Yep…
We did good.