Click Any Photo To Enlarge!
Current Venue: Boron, CA
Campground : Arabian RV Oasis
I've studied a lot of campground reviews over the past decade. In fact, before I became a Thousand Trails and Passport America member www.rvparkreviews.com was my primary resource for choosing my parks. I still check these reviews, but I'm not quite as religious about them as I have been in the past.
This is partly because of my discount memberships, but also because much of my criteria is different. Things I most look for in the reviews are clean showers, sewer hookups, friendly staff, shade, scenery, and location. The things I least care about is level sites, highway noise, super-spacious sites (I have no slide-outs), cable tv, and especially wi-fi. (It's a given that most campgrounds do NOT have adequate wi-fi so it seems unnecessary to dwell on it constantly).
Arabian RV Oasis is a "no-frills" park.  Unless, of course, you want to get together in the shower house with a good friend and have a public potty party…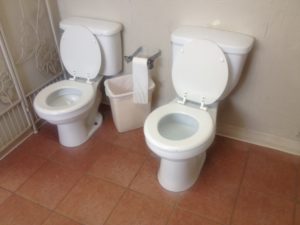 I think it's a real shame when overnighters refuse to even unhitch and explore their surroundings. Granted, it may only be a one-night pit-stop, but you may be missing something! Please don't make this mistake in Boron, California.
Downtown Boron is only one block away from Arabian RV Oasis. Much of the Julia Robert's film Erin Brockovich was filmed there, including the Boron Food Mart, where you can buy slow-roasted tri-tip steaks for only $3. Across the street is wonderful little family-owned diner called the "20-Mule Team Cafe." Here, you can still buy a grilled cheese for $2. I opted for complimentary chips and a sampler platter for only $8. Every bit of it was delicious, and I still had some left over for breakfast!
Does "20-Mule Team" ring a bell?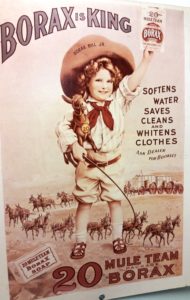 The 20-Mule Team Museum chronicles the fascinating history of Boron — one of the few towns I've known named after an actual element. It's also home to the  largest borax mine in the world and, in the early days, 20-mule teams were utilized to transport it across the harsh desert terrain.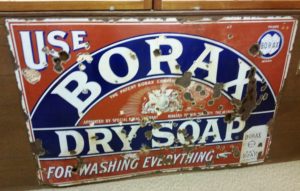 What's truly interesting is how the animals were selected for different roles. The "leaders" were the two most intelligent mules, the "swing teams" were the least specialized, the "wheelers" were the strongest beasts that held up the rear and acted as the brakes, and the "pointers" helped navigate turns as pictured below…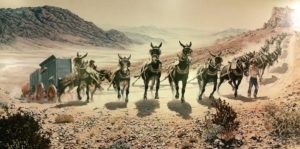 Of course, these days there are other methods of transporting borax…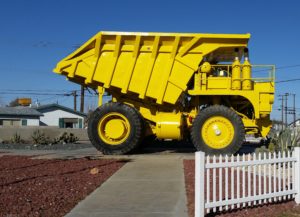 I have to admit I didn't even expect such a good time when I pulled into my no-frills park in Boron, California. It took 30 seconds to get going in the right direction: I googled "Things to do in Boron." TripAdvisor did the rest!