Current Venue:  Lodi, CA
Campground: Flag City RV Resort

Tuesday morning I had to switch parks.  You can see the sag in the rear end of the van without the lift of the leaf springs.  But it was only 5 miles to Flag City and I made it without a hitch.  In fact, I even managed to level the trailer with no problem!  A new RiverCat Milestone.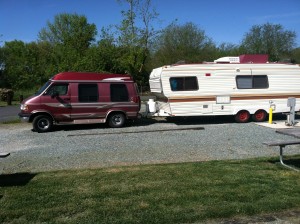 When I mentioned moving to this park in a previous post, I wasn't terribly enthusiastic about moving to a "concrete slab."  I may have exaggerated a little.  The landscaping is actually not bad at all if you're into flowers (I just prefer trees).  And, while the park is a little "bright" in the daytime for my taste, it's actually quite nice!
For one thing, the showers and restrooms are exceptional.  The showers offer complete privacy with floor-to-ceiling doors, are very spacious, and laid out like actual dressing rooms.  The hot tub agreed with me, as well.  But perhaps my favorite feature is my location and the nice little scooter runway straight to the restroom and laundry facilities.  I've really enjoyed opening the throttle a little bit on this bit of stretch.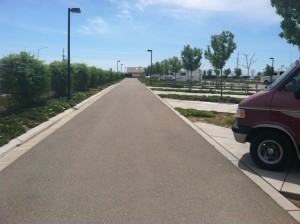 Today I tried my luck at "Bolo."  Similar to horseshoes, the object of the game is to toss these little rubber-ball-rope contraptions onto different point tiers, 3-2-1 from top to bottom.  First team to 11 (exactly 11) wins.  The team in the lead begins each round by tossing 3 of these ropes.  However, if they score, the other team has an opportunity to scratch their points if they land on the same tier.  It's an interesting game!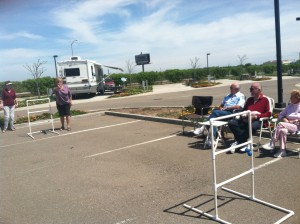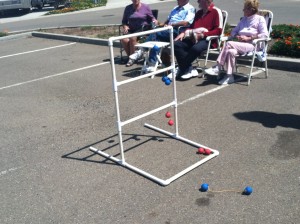 My team did not fare well.  Our opponents promptly trounced us just as I was just getting the hang of it (I almost scored once).  What a neat group.  It seems they're sort of a club of 60-plusses who take turns planning a week at a nearby resort.  Pretty cool.
I spent the next 5 hours getting the van worked on.  The new leaf springs and tires are installed to give the rear end more lift.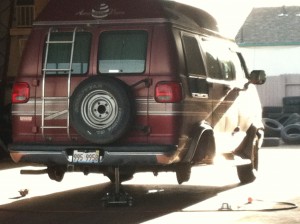 And then there's my contribution.  I christened the trailer.  If I manage to pull it off, I'll get this old rig to 48 states.  It hasn't been a pretty start (Since Redding).  I imagine there'll be plenty of other times I'll wonder what the heck I'm doing.  It's not always going to be easy, downright "ugly" at times.  That's why I chose…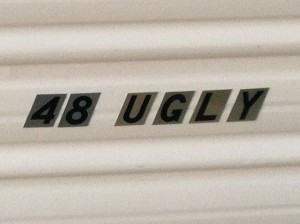 Next Story: Bee !