Current Venue:  Barstow, CA
Campground: Shady Lane RV Camp

I keep Jeepers' travel kennel outdoors so I can put him out whenever he so desires.  It's a large kennel with a small kitty litter in back for his early-ride-jitter-BM's at the beginning of each trip.  I was quite surprised this morning when, upon checking this litter, a colony of ants had been tunneling through it.  Kitty litter + smelly urine = prime real estate.
Today was the easiest trip yet.  The new rear end passed the test again, this time going over a small mountain range with only a little difficulty.
I made it to Barstow at 12:30.  I was making such decent time, I found myself very tempted to press on to Vegas.  But I liked the idea of pulling into the big city on a Sunday afternoon better.  Besides that, I'd be pushing it with Jeepers' sedation (I'd given him a smaller dose for the shorter trip) and I've heard the managers of this park are the friendliest people in California…
They weren't lying.  When I called this morning, Jim was very helpful in getting me to bypass the GPS city-street route.  He ended the conversation with a very sincere, "And if you have ANY trouble, do not HESITATE to call me."
When I pulled in I was a little concerned by how small and confined the park looked.  But Jim was waiting in his golf cart.  After quickly exchanging pleasantries, he said, "Follow Me."  So, I did.  It did not go unnoticed that he carefully took each turn in his cart very wide so that I would follow suit.  How thoughtful is that?!  He guided me into a small gravel spot which, to my surprise turned out to be almost perfectly level.  Jim said, "Get hooked up, get that A/C going, lay down for a few minutes…then come see me at the office."  Yes SIR!  Above and beyond.
The office is actually a trailer and, true to other reports, there are no frills here.  It's an old park in the desert.  But I immediately felt comfortable in this office.  And do you know why?  Because during registration, I found myself sitting in a lounge chair!  After Jim quickly got me checked in (they only take cash or personal checks) he handed me a wealth of information including a channel guide, TV guide, and mileage charts from Barstow to about 30 other U.S. destinations (that one was a first).  He then gladly showed me on a map where the grocery stores and gas stations were.
We chatted extensively about staying cool at night in Vegas (a different creature altogether from the high desert of Reno where it cools down at night).  I hadn't been getting sound sleep in Bakersfield with the A/C humming right above me, but I'm afraid to leave the windows open because Jeepers gets hyperactive.   Jim recommended opening both vents and running fans at night.  He also mentioned to be careful about running the air conditioner 24/7 because they will eventually freeze up.  I  hope the vents do the trick.  It was 99 degrees here at 4:30.
I have a tree on my site teeming with wildlife.  Aside from this very large lizard, there are some nesting doves and at least 2 other nests of varying species.  The tree itself is interesting.  And yet, I can't seem to give this gnarly plant or the other birds any sort of identity.  I'm totally ignorant in this respect.  Before I end my stint in Vegas, I'm definitely going to invest in some field guides.
Recognize any of these cars?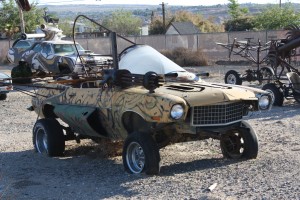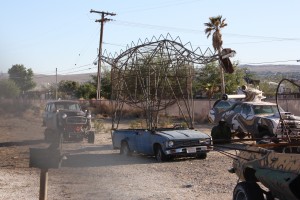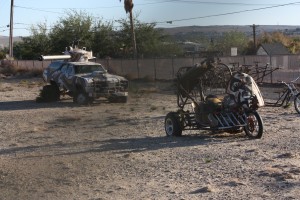 Apparently our neighbors had enlisted these vehicles in certain B-Movies and some Hollywood parades.  Actually, the creators are now deceased and a relative sort of inherited them — I had to snap these photos through a chain-link fence.
Tomorrow — Las Vegas.
Next Story: Baker Grade