Click Any Photo To Enlarge!
" * " Definition on Common Terms Page
Current Venue: Las Vegas, NV
Campground: Thousand Trails
One of the really fun things I've been doing on a limited budget is finding the residential side streets that I can safely ride the scooter.  It's always a thrill to find a new cut-through with nice wide lanes and no traffic.  I'm also figuring out how to access the back alleys to The Strip casinos so I don't have to get on Las Vegas Boulevard.  Slowly, but surely, I'm figuring it all out.
Bally's Casino is sort of the "sister" to the Planet Hollywood poker room (where I'll be working in November).  In between the two is Paris Casino, another Caesar's property.  The really cool thing about Bally's and Paris is that they share a parking garage.  From the parking garage you're looking down at quite a scene…
Bally's tennis courts…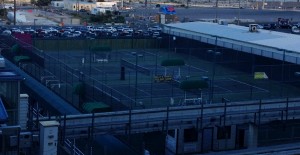 And the monorail…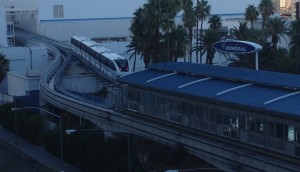 When you go down the escalator you find yourself in a grand hallway with all kinds of wonderful smells, restaurants, and scenery.  If you go left, you're on the way to Paris.  To the right, Bally's.
Once you're on the casino floor you can hang another right, down another set of escalators, and find yourself in sort of a mall setting en route to the food court and sportsbook.  This is were you'll find the only bargains in this entire resort — 75-cent macadamia nut cookies at Subway.
You'll also find really cool basketball… "sculptures"?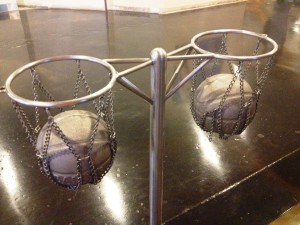 Technically, I don't know what they are.  But I can tell you the basketballs ARE removable — and they are very, very heavy.  That may be the reason none of them seem to be missing.
Things are tricky here in Las Vegas.  I'm performing a juggling act with the finances.
For instance, I can't make too much money with my November dealing job at Planet Hollywood.  If I do, I could lose my Medicaid — and I'm currently in the middle of a bunch of tests.  If I get a clean bill of health when it's all over, I can take full-time employment, if necessary.
With the November gig it's not really a good time to hunt for full-time employment.  And, with both me AND Jeepers dealing with doctor's appointments and health issues — I'm just going to "manage" things this coming month and then resume the job hunt in December, if necessary.  I say "if necessary" because I'm optimistic that between some new developments and  networking at the November event, something promising is going to develop.