Click Any Photo To Enlarge!
Current Venue :  Tehachapi, CA
Campground: Mountain Valley RV Park
I've extended this post past the original 9-day misadventure when I was stranded in Tehachapi. It is now an ongoing post until the storm settles.
Thursday July 23, Day One of my Much-Anticipated Northern California Vacation
Is this really happening? Of all the years that I needed a nice relaxing trip to settle my nerves, this was it. I worked two months solid with only 3 days off — all of which I'd spent on about a dozen repairs and improvements. In fact, my schedule was so intense, I'd decided to have my trailer tires replaced on my way out of town (thanks again Jim and Sandie).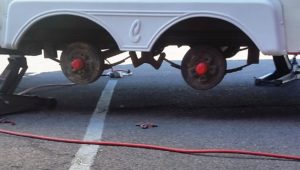 Another one of these fixes was getting my A/C replaced in the van. I decided to spend $900 at Meineke so that I could have it warrantied at it's nationwide locations. It's a good thing I did. At my first hill on the way out of Las Vegas the compressor roared, I lost my cool air, and smoke intermittently came through the vents.
Only 1 hour from my first destination, Pahrump, I knew I wasn't going to get out of town. Something was clearly wrong. I pulled into Firestone, unhitched the trailer, and waited a couple hours to find out the A/C compressor was having a meltdown. I was also informed the front end was dangerously loose — what a start! I hitched up the trailer in the unbearable Las Vegas heat, dropped it a couple miles away at Oasis RV Resort, and rushed the van all the way across town to Meineke.
Stranded before I even got started!
I made the mistake of mentioning Firestone's diagnosis. The Meineke owner insisted he'd installed the A/C kits for eternity and had never known of a new compressor going bad. Would mere pride keep him from exploring the possibility? It seemed to conclude pretty quickly it was "high pressure blowoff."
It was decided an evacuation and a recharge with 1/4 less freon was in order — shouldn't take long. I left it 3 hours before my ride dropped me off. But it wasn't finished. All that was left to do was the recharge. But peering through the window, I could tell the van was being neglected. I inquired several times and, on one occasion, a young mechanic was finally assigned the task. I stalked him through the window and, as expected, he went home without even touching it! Finally, with every other car being dismissed and all the lights turned out for closing time, they'd come to realize there was  still an 8-foot tall van sitting in their bay. Oops!
I think I exercised such great patience because the owner was giving me a good deal to fix the front end the next day…
Friday July 22, Day Two
Back to Meineke. Once again, I was lucky to have a friend give me rides. I was told the idler arms would be installed by 2:00, easily. That's when my ride dropped me off. I waited an additional 3 and a half hours because their alignment equipment was malfunctioning!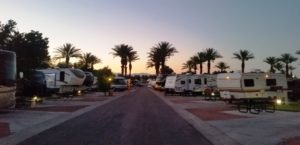 It was unfortunate I wouldn't get to spend much time enjoying the amenities at Oasis — I'll have to revisit this one later. This time around, I was just desperate to get away from the heat and resume with my 2nd reservation in Tehachapi on schedule. And because of the extreme 110+ temperatures and tough grade near Baker, California I wanted to be on the road around 6 am…
Saturday July 23, Day Three
I was on the road by 6:30 and tackling the first hill by 7:00 am. Even still, I lost my cool air right away. I started smelling smoke, again. I pushed on. My figuring was there didn't seem to be any reason to delay things another day in the extreme heat and I could make it to Tehachapi by late morning.
Poor Jeepers was miserable. Even with the sedative he could not relax in these conditions, and he struggled the entire trip under my watchful eye. I iced him down and forced-fed him ice cubes during the most brutal parts. A tough journey, but we made it to camp with my belt smoking.
After realizing nobody was at the office, I went back to the van to set up camp. But the van wouldn't start! I wasted no time calling the owners of the park, the neighboring Skylark North Mountain Valley Airport and explained the situation. I lucked out instantly! A couple of good Samaritans overheard the call and came right over.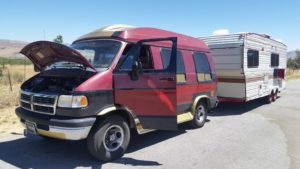 A simple jump-start was clearly not the answer. But before long I had the two brothers competing to find out who would find the answer first. It was the younger of the two that discovered the blown fuse. Easy fix except for one little…
PROBLEM. The belt started squealing and smoking much worse than I'd realized while I was driving. The brothers quickly agreed on this one — the A/C compressor was locked up. Right. Who didn't know that! The belt was fried, the vehicle was undriveable. In fact, we dared only move it a few feet after unhitching the trailer. I was very grateful the brothers showed up and helped me at least set the trailer down with their own truck, But these feelings were momentary as I sensed a logistical nightmare developing.
I contacted Meineke/Bakersfield. The owner seemed very put out by the idea of fixing someone else's job, even though it was under warranty. He suggested I might be taking a chance getting it towed down there, and there was no way he could expedite it on a busy Monday.
I sent video of my burning belt/locked compressor to Meineke/Las Vegas. I was assured everything was under warranty but I absolutely could not drive it — I'd have to get it towed 50 miles away to Bakersfield.  But when I tried to touch base with Meineke/Bakersfield again, they'd already closed for the weekend. Stranded again — and in the dark as to whether or not I should even try to get it towed first thing Monday. I had no idea if arrangements had been made with the warranty. Frustrating!
Sunday July 24, Day Four
Meineke is closed for the weekend and my trip had come to another immediate standstill. I was now stranded again!
I called Meineke/Corporate. Very concerned about the owner of Meineke/Bakersfield putting off my job after a $200 tow, I was assured by corporate that he would expedite it as soon as the van arrived.
Good Sam Roadside Assistance joined the party. They would only cover the tow to the nearest garage. No good. With a minimum $900 repair, I'd need to get it to Meineke in Bakersfield and make up the difference at $4 per mile. I was instructed to call at 4:30 am to make arrangements for a 6:30 tow.
Monday July 25, Day Five
After setting my alarm for 4 am, I was informed nobody would come up from Bakersfield because that was a prime time for rush-hour wrecks and that nobody in their network opened in Tehachapi until 9 am. Therefore, I could maybe get a tow by 9:30 instead. Okay, fine.
Only the tow truck never showed at all. Apparently they simply did not have the equipment to tow my beast so — they simply didn't show up (I learned later this company had been taken off the CHP call list)! New arrangements, outside the Good Sam network. They agreed to match they fee at $185.  A fortunate break, only my original 6:30 tow did not happen until 1 pm.
Rental car arrangements. Rent-a-Wreck agreed to pick me up at Meineke/Bakersfield and had a car for me at $40/day. More expense.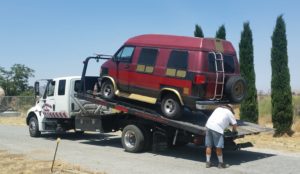 The tow truck driver was good company, and the long ride down the hill went down without a hitch. As promised, the crew at Meineke pulled it right in. They also made a pretty quick assessment — the entire A/C system and belt had to be replaced. I was in my rental car at 3 pm.
Tuesday July 26, Day Six
Strange gameplan, a small gamble : With the rental due back at 3, I'd drive all the way to Bakersfield to Rent-a-Wreck and call Meineke from there. After all, I could try to book a second poker win at the nearby casino as a Plan B. The repair wasn't quite finished, I renewed the rental,  and an hour later I got the call. Righhhht. (I did succeed in putting together a small win and pay for the rental).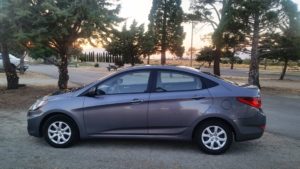 I cancelled two more reservations and picked up the weekly rate at Mountain Valley. I needed peace-of-mind knowing I'd be in one place for a few days and that I could get back on schedule Saturday with a one-night stay somewhere, then pick things up on-time in Nicolaus (Lake Minden).
This became an easy decision when I reviewed all the 10-day weather forecasts. Everything would be 100+ in the valley for a few days, low-90's and breezy in Tehachapi. The weather has been heaven.
Wednesday July 27, Day Seven
Today's the big day. I picked up the van and headed up the hill for another 50-mile trek. The A/C compressor locks up again! I wanted to cry. Really, I wanted to cry.
Thursday July 28, Day Eight
Back down the hill. At least I could drive it this time as long as I kept the A/C turned off.
Quick Diagnosis. The compressor doesn't have enough power, another one is on the way. Come back tomorrow…
Friday July 29, Day Nine
Back down the hill. I'd decided that as long as this repair stuck long enough to get back to Tehachapi, I would go ahead and hitch up tomorrow and head to Manteca.
Success! After a wonderful lunch during the repair and a timely job, I've made it 50 miles uphill to Tehachapi without the A/C breaking down! While it does concern me that this 3rd installation is the exact same kit as the first two, I can't worry about that right now. I can at least get close to the next Meineke in Sacramento and, worst-case scenario, take it back to Meineke/Las Vegas when I get back in a few weeks.
If it fails again I'll plan short, early-morning tows with the windows down.
Saturday July 30th, Day Ten
I managed to get all the way to Manteca before things came unraveled again. I was backing 48 Ugly into my campsite when I heard a loud POP and the entire van jolted. Then it happened again, again, and again. Pop, pop, pop!
After unhitching, I slowly maneuvered the vehicle 3 miles to Meineke/Manteca, careful not to take any sharp turns or make any quick moves. It jolted real hard at least a dozen times.
Meineke was closing their weekend with a bang, and couldn't possibly get me in to look at it. I rushed it next door to Les Schwab. They reported that the idler arms were dangerously loose and that they tightened it down as well as they could — but at least one arm had to be refitted properly or it would come loose again!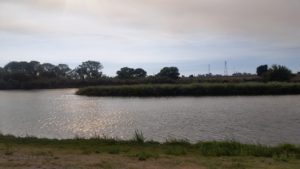 But upon contacting Meineke/Las Vegas, he was none-too-happy about having to warranty the labor on another job. He said I'd have to take it to Meineke, first. Of course they were going to be closed until Monday…
I took a chance. I went back next door and talked to the owner. He was great. While there was no way he could work his crew any more overtime, he got under the van in the parking lot and took a wrench to tighten it down some more. His observation was that it appeared to be missing a washer to keep it in place!
But I now had the go-ahead to head up the road. I'd just have to monitor things and have the alignment checked as soon as I could get it back to Vegas.
Sunday July 31st, Day Eleven
While unhitching, I discovered to items:
My black water tank sprung a leak!
One of my trailer tires was low on air. A helpful maintenance man at Turtle Beach aired it up for me. He said I only had 20 pounds remaining it the tire. It had lost 30 pounds in 10 days. Of course, none of the garages were open on Sunday. I'd just have to deal with it after I got settled into my two-week stay at Lake Minden.
Monday August 1st, Day Twelve
After settling in, I'd pretty much decided I was going to do an full-blown repair on the tire just yet. I took a long-shot attempt at filling the tire with Fix-A-Flat, knowing it probably would not work without the willingness to pull out of camp and drive it around a bit. It wouldn't work. My new strategy is to air it a couple times and use Fix-A-Flat on the day I depart.
Tuesday August 2nd, Day Thirteen
After the front end began rattling again, I headed to Meineke/Roseville. Success! They spent two hours fixing the idler arms by installing the additional washer(s). Incredibly, we didn't have to contact Meineke/Las Vegas for the warranty — they did it for FREE! Great guys.
And finally, some peace of mind.
Wednesday August 3rd, Day Fourteen
I drove to Sacramento to find a holding tank repair kit. Of course, I have no idea what I'm doing, but I'll take a crack at this repair for only $15-20.
As luck would have it, the hours posted on-line were incorrect. They were closed.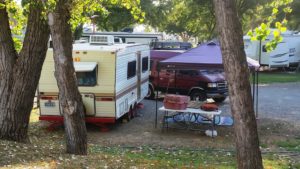 Thursday August 4th, Day Fifteen
Back to Camping World. No repair kit! Unlike most Camping Worlds I've been to, this was not a "superstore." In fact, it was quite small. A quest for the elusive patch…
Friday, Saturday, Sunday, Monday August 5-8
A break from repairs!
Tuesday August 9th, Day Twenty
Add Jeepers to the mix. The poor guy has been over-grooming non-stop since Tehachapi. With no sign of fleas or parasites, the vet in Marysville game him fluids in the event he's having a dehydration-type of reaction to his travel medication.
Wednesday August 10th, Day Twenty-One
I had to consult with my friend, Jim Dixon. First, the tire leak. He said it's most likely in need of a valve stem repair.
Second, the black water tank. I have been eager to try the two-part epoxy repair to tie me over until my handyman could tackle it but, despite the toilet not being used at all, it has been dripping for a week-and-a-half. Jim's only suggestion is that the valve in the toilet had been leaking. It appeared that had been the case.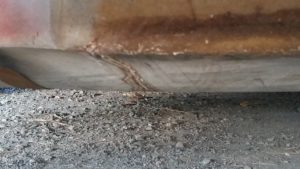 Thursday August 11th, Day Twenty-Two
Bought Jeepers a bath and gave him one. I'm hoping the smoke from the A/C debacle is the culprit and a good wash would do the trick.
I purchased a valve stem repair kit for the tire. Incredibly, Yours Truly managed to install a new valve stem core with no incident! Tire Repaired.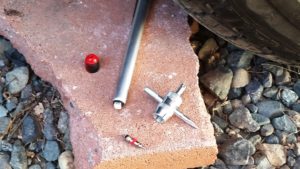 Friday August 12th, Day Twenty-Three
The tank is still wet, but not dripping as much. I'm thinking it's not going to be a big deal if I don't get it repaired right away — I could probably get through the rest of the trip with a little drip if need be.
Fun Facts and Figures of this RV-Vacation Nightmare :
Trips to Meineke : 12
Hours Spent at Garages : 22
Camp Reservations Cancelled : 3
Extra Camping Costs : $135
Extra Fuel (Estimated) : $240
Towing Cost : $185
Extra Dining (Estimated) : $120
Total Extra Costs : $680
Despite the insanity of this journey, I did have some fun highlights, believe it or not! And insights. But due to the length and complexity of this dilemma, I felt the fun stuff simply didn't belong in this post. Therefore, I'm going to share these highlights in separate posts. Stay tuned!