Click Any Photo To Enlarge!
" * " Definition on Common Terms Page
Current Venue: Las Vegas, NV
Campground: Arizona Charlie's
Recent Updates: Written in Jello
Finally, cooler weather! Las Vegas had it's last 100-degree high nearly a month past the average this year. Then, up until recently, highs in the upper nineties. It seemed we would never get any relief from the heat. But a recent storm system brought rain, flash floods, and cooler temperatures. I'm pleased to say that not only are the highs down in the 80's, but it seems we've finally solved the last roof leak (although, after years of battling these leaks, I'm not entirely convinced until 48 Ugly withstands at least one more storm drip-free).
Other recent improvements include applying black vinyl to Memphis Red.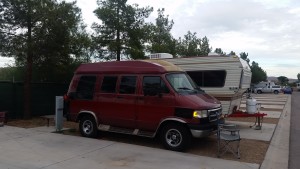 It's an ongoing "hobby." Once the black is complete, I'll add gold to the mix. I'll then use the vinyl scraps to add a little more character to the trailer. My total cost will be a little less than $200 when it's all done, and I've been told that to paint something in this complex design would have cost me at least $2000. It's really fun in that you can really exercise your creativity and you always have the ability to undo your work when it's not to your satisfaction.
I'm spending my "out week" from the Thousand Trails system at Arizona Charlies, a casino/resort. It's amazing I'd never gotten around to staying here before. I'd always heard good things about the shower houses with private bathroom suites — a very nice feature. But I also heard about cable television, which I haven't enjoyed in several months. Of course, maybe the $168 weekly rate is what kept me away for so long, but I figured it was about time to make the one-block journey and see what they had to offer.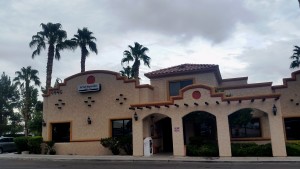 Exactly 100 channels! It's been really nice to be able to catch up on some of my History and Discovery Channel programs. Additionally, the clubhouse has probably the cleanest laundromat in town and the heated pool is in the coolest shade tree setting than I've seen anywhere in the area. It's made for a nice out-week, indeed.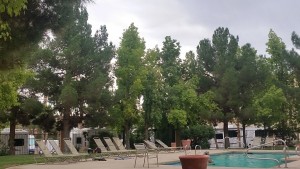 As with all casino/rv resorts, there is easy access to the gambling establishment. I've actually spent more time at their excellent little deli counter. Be sure to check out the coffee-and-a-donut special for only 2 bucks…
I have a busy work schedule at the casinos in November. I believe I'll spend at least half of December here in Vegas in preparation for a 4-6 week working vacation through the end of January. Possible destinations currently include San Diego, Palm Springs, Joshua Tree, Blythe (CA), Laughlin, Quartzsite, Valley Verde, and Tucson — not necessarily in that order. Of course, all of it's Written in Jello.