Click Any Photo To Enlarge!    " * "   Denotes A Definition Available on the Common Terms Page
Current Venue:  Tempe, AZ (Phoenix Area)
Campground: Tempe Travel Trailer Villa
Visiting:  Apache Lake
When I was a kid my fishing experiences consisted of camping trips with the family or the nearby spillway.  I caught every fish, mostly catfish, on stink-bait and earthworms.  I never caught a fish on a lure — and it's been on my bucket list for quite awhile.  Having been fishing only once in my adult life, I was definitely looking forward to my outing with Jim.
Apache Lake, one of many reservoirs of the Salt River, is loaded with terrific photo opportunities.  Much of it feels like a canyon with the rugged rock formations that seems to be the signature of the Superstitions.  But with high winds and choppy waters it was difficult to take pictures in this area.  Another day…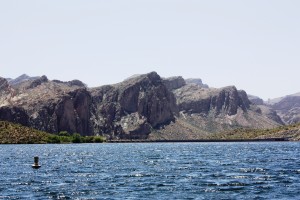 Even after navigating the canyon and finding some coves, wind would be a factor all day.  Jim dropped anchor a few times just to keep the boat in the general vicinity of where we wanted to fish.  We didn't catch one for nearly 3 hours.  Shortly after Jim finally caught his first one, I hooked a large bass — he got away just as I was pulling him up.
Strangely, I felt somewhat satisfied for awhile that I actually hooked a fish on artificial bait.  Then I wasn't.  A couple hours later Jim caught a couple more fish while I was catching seaweed.  Here's one of my larger catches…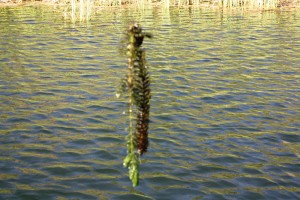 Needless to say, it didn't put up much of a fight.  I was ready for a bigger challenge.  So I made an adjustment.  I did a little figuring and decided I might be reeling in my hook a tiny bit too slow.  I picked up the pace just a fraction and, voila!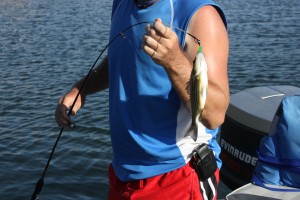 Yes, my first catch on a lure!  With this whopper, I was a immensely satisfied.  The day was a success.  But wait…
Only a few minutes later, my rod doubled over.  Jim rushed over with the net as we battled.  He exclaimed that it must be a large bass because of the kind of fight he was putting up.  After a couple trips under and around the back end of the boat, Jim was quite surprised when I pulled up this guy…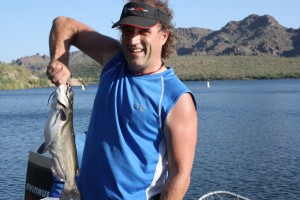 Now in the picture it appears like I'm smiling.  I'm actually grimacing as this large catfish chomps down on my thumb.  I still have a nice "battle scar" as a trophy.  (I've used more Neosporin this past year than the other 42 combined)!
Jim has been fishing up here for 5 years.  I think he said he's never seen a catfish caught in Apache Lake on a lure like this, nor had he ever seen striped bass — of which, he caught two!  So, in spite of battling wind and catching only about 10 fish between us, I guess this day will be one he'll remember, as well.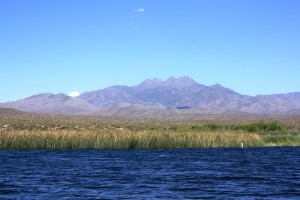 I must say, I'm in awe of how flawlessly and efficiently Jim hitches, tows, loads, unloads, and hooks up things.  He's a one-man pit crew!  From the time we pulled up to the dock to the time we were on the road was probably less than 10 minutes.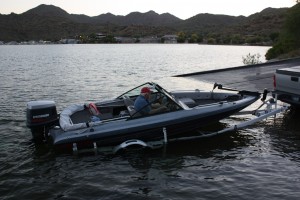 He told me for awhile he used to tow the fifth-wheel AND a boat behind it!  I'd only seen this feat a couple times in my life (aside from professional truck drivers).  Upon asking him if that ever made him nervous, he said no — but Sandie was.  These days they keep one boat in Arizona and one in Montana.
As if the day wasn't splendid enough, Sandie had dinner waiting for us.  It was awesome, every bit of it. We talked about our upcoming travels and stuffed ourselves with delicious carbohydrates.  The Dixons are heading towards New Mexico, Colorado, Montana, and the Oregon coast in September.  And if you know me at all, you know I chatted up a storm about the Oregon coast (I LOVE the Oregon coast)…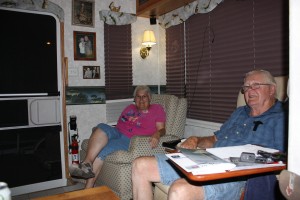 I also got to visit with Scooter and Skittles.  They are a comical pair.  Even as busy as they were going  to work on my camera bag, they actually stopped to pose for this picture!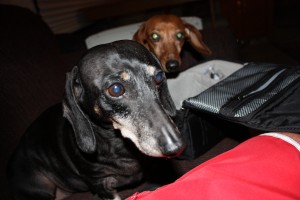 Good Times.