Click Any Photo To Enlarge!
" * " Definition on Common Terms Page
Current Venue: Las Vegas, NV
Campground: Thousand Trails

NOTE:  Due to internet difficulties in Arizona, my Cal-Nev-Ari adventure is being brought to you from Las Vegas, Nevada.
Airplane Hitching Posts?
It's amazing how often I find myself camping in Cal-Nev-Ari, Nevada —  only 60 miles outside Las Vegas!  But I can't help it.  I'm always drawn to the campground and I justify stopping here due to it's proximity to Laughlin, even though it's still a good 20 miles away over a rather spectacular hill.  It's a good thing I stopped — my poker winnings would nearly pay for the entire trip.
I also took this detour to finish some cleaning, organizing, and laundry before dry-camping down in Quartzsite.  So, on my 3rd full day here, I opted not to go over the hill and just focus on chores.  When I was done, I decided to go exploring.  As many times as I'd been here I'd never really explored the tiny town of 250 inhabitants.  I was in for a treat…
First, let me paint the picture.  The entire town consists of an RV park, motel, general store, and activity center on one side of the highway.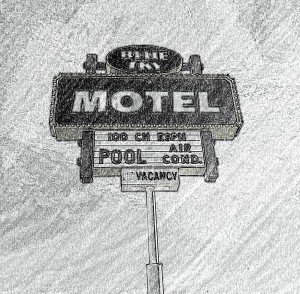 On the other side is the casino/restaurant/post office and an airport with a runway that runs right smack-dab through the middle of a residential area!  This, of course, is what piqued my interest.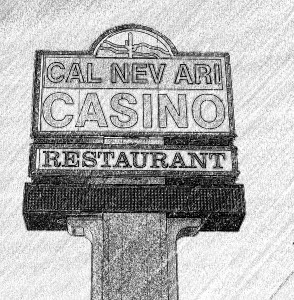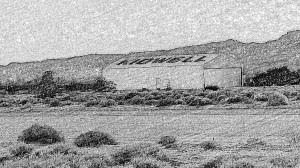 I always knew this community was built around this airport, but I was absolutely astounded at how many of the private residences had their own hangars!  In fact, an airplane can pull right off the runway and into the driveway.  I thought I'd seen it all.  Then I spotted the hitching post behind the casino…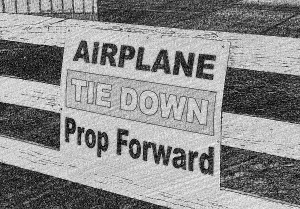 (Yup, it's for real).
Mystery of the Disappearing Store Clerk
When you check into the RV park, a $5 deposit is required for restroom and laundry privileges — and people lose these privileges if they leave the facilities unlocked. Apparently there was a time that a lot of vagrants somehow made their way out to the middle of the desert and took shelter here.  Hard to imagine.
I can assure you it is a very difficult lock to work with and, at times, I admit to leaving the door open if I know I'm coming back soon enough to put my clothes in the dryer.  But on this particular day I went to the general store to purchase a beverage and found that it was locked!  Well this got me to thinking : I'd better go lock the door to the facilities in case the clerk was doing her rounds and discovered I left it open…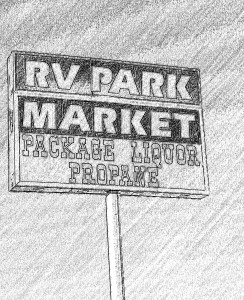 Around the corner I went. After an immense struggle and a few strong words I finally managed to lock down the facilities.  Satisfied, I made my way back to the store.  Still nobody!  What was taking her so long?
Another customer pulled up, a long-time resident who'd moved to Cal-Nev-Ari over 20 years ago to be near her father who, incidentally, owns a plane.  She enjoys living here because she likes four-wheeling the BLM lands behind her house.  She also shared an interesting bit of trivia : The town is actually a subdivision of another tiny village some 11 miles away, a town called Searchlight…
What was taking that clerk so long?  After finally exhausting our conversation, we sat on the curb awhile — long enough for my butt to start going numb.  It was going on a half-hour now.  I announced that I was going to check on my laundry and the young lady conceded to coming back later.  She prepared to drive off.
Lo and behold, what did I find when I went back to the facilities?  The clerk!  Somebody had locked her in when she was using the restroom!  (Apparently her key does not work from the inside).  Instead of releasing the captive right away, Yours Truly felt it was more important to first go wave down the customer that was starting to pull out of the parking lot.  After all, she had invested a lot of time in her cigarette purchase.
Well this sent the clerk into a near panic attack.  She literally started hopping around and screaming hysterically!  I set her free. But as we made our way into the store the first-day employee would be in a frenzy. For the next 10 minutes  she replayed the harrowing tale over and over as if she'd stepped on a rattlesnake.  I sneaked out of the store around the 5th re-run.
I have a feeling she'll always remember the day she came face-to-face with The Ramblin' RiverCat…