Click Any Photo To Enlarge!
" * " Definition on Common Terms Page
Current Venue: Henderson, NV
Campground: Railroad Pass Casino (parking lot)
I ran into a little snag this week.  I managed to get myself stranded outside the Thousand Trails system after my week out, not realizing the resort would remain full the week between NASCAR and the PBR rodeo. To save money I elected to try dry-camping at the oldest casino in the country, Railroad Pass.  Just outside Boulder City, the RV parking lot sits is nestled up against a spectacular mountain backdrop that's home to the railroad that the casino is named after.  Parallel to the tracks is a very popular attraction called River Mountains Trail Loop.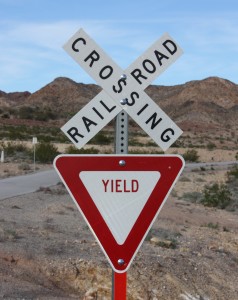 As soon as I dropped 48 Ugly* I had to rush off to the racetrack to work the NASCAR event. All-of-a-sudden I felt uneasy about leaving my home and all my belongings unattended in a parking lot. I had visions of someone simply pulling away with it. In all the years I've lived in this rig I've never once felt the need to lock the hitch. But in this case I felt extremely vulnerable — probably because it was adjacent to other parking lots and completely exposed to the public. So, in probably the safest area anywhere near Las Vegas, I locked the hitch as soon as I got home.
The rule is you can dry camp for only 3 days at a time. But security was kind enough to let me stay a few extra days. All free.  I didn't have time to shop for refurbished batteries as I'd hoped so, as I found myself boondocking for the second time in one year, I was completely in the dark again — my only modern-day amenity being propane for cooking and keeping the fridge cool.
But this parking arrangement turned out to be a perfect little setup. If I walk in the hotel entrance I have access to restroom facilities and a gift shop for snacks and sodas. The casino floor is the perfect size — small but plenty of selection.  The restaurants include a steakhouse, buffet, and 24-hour cafe with terrific breakfast specials — all in one cozy little corner. There are two bars, one with a spectacular mountain view. And the staff is incredibly friendly, especially security and a cute little bartender with a great sense of humor.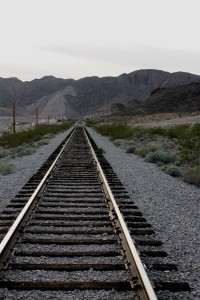 I also met some of the most interesting travelers, including the truck driver for NASCAR driver Casey Mears (Geico), a traveling special-events beer vendor, and an ex-Raiderette cheerleader who generously shared her husbands wealth with anyone who would share a laugh with her.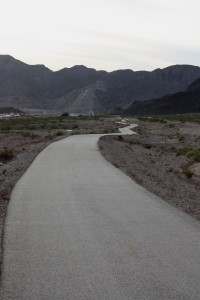 It's rare that I have such a busy week socializing like this. But after my physically-demanding weekend job at NASCAR I was too sore and tired to do much hiking or sightseeing. And I had no electricity — leaving little to do in the dark besides read.  I did recover in time to do a couple miles of the River Mountains Trail and take a few snapshots.  I'll save the other 30+ miles for a later date…