Click Any Photo To Enlarge!
" * " Definition on Common Terms Page
Current Venue: Las Vegas, NV
Campground: Thousand Trails
NOTE:  Due to internet difficulties in Arizona, my Quartzsite adventure is being brought to you from Las Vegas, Nevada.  It is also quite overdue as I had to fly out for a funeral upon my arrival in Vegas.  So, for those of you who just left the Q recently and already miss it — this one's for you!
Figuring it all Out
It's the Big Q Event, late January when anywhere from 100,000 – 3,000,000 RVers converge on Quartzsite.  Attendance reports vary but I can say with absolute certainty — it's a lot.
I think there's a certain learning curve everyone's first time here.  You learn about permits, where the different camps are, and that there are day use areas that you can't camp (I had to relocate once).  You find out about the RV Pit Stop where you can pick up firewood, refill water jugs, and dump your tanks.  You learn there's only one place in town you can dump your trash — and then forget they're only open certain days and have to tote around a smelly garbage bag with kitty litter in it the rest of the week.
You learn that most campers belong to a "group."  Some groups form wagon-style circles around their campfire…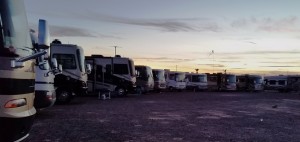 But I've also seen other formations like squares, triangles, and other "freehand" styles.  We even formed a subgroup at our camp…

Dry-Camping with 48 Ugly
As you may already know, me and 48 Ugly* aren't boondockers.  Now that I've determined I'll be coming to the Q every year for awhile, I've decided I'll at least purchase a battery before 2016.    For now, I have no electricity, running water, or a  working furnace. To make matters even more challenging, I brought along an itchy cat to wake me up throughout the night.  (Jeepers* recently developed a mysterious affliction that the vet cannot seem to figure out).
Even though the low temperatures reached the low 30's some nights, burning two candles seemed to do the trick.  It was chilly –especially the time I accidentally left the vents open — but really not bad.  On some nights Jeepers didn't even need to take cover under the blankets.
I must apologize to my neighbors, Brad and Marylin, for the public nudity.  I kept the windows open to bathe because I needed the light.  Luckily for them, I have tinted windows.  Here's my dry-camp grooming and hygiene kit…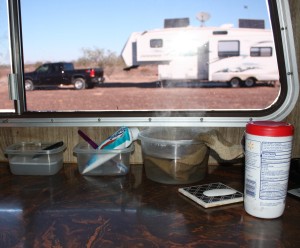 I really, truly do not mind sponge-bathing — it's sort of a meditation for me.  I'd heat the water on the stove, fill my little tupperware "tub", and really just take my time while enjoying the view.  Typically I'd brush my teeth out in the desert.  That way I could kill two birds with one stone as my black tank filled up later in the week.
"The Classless Class"
I was invited by the Dixons to join their Escapees group, "The Classless Class."  You see, most Escapees groups in Quartzsite are distinguished by the year the members joined.  Not this one.  And as far as I could tell, our group had the best get-togethers and parties this whole two-mile stretch of Plomosa Road!  I couldn't get enough of the campfires and terrific food.  Congregations formed all hours of the day, kicked off with Mimosas for breakfast!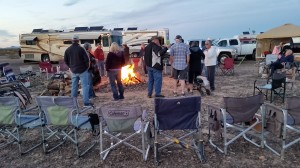 Another notable blogger in our group were the Weavers.  Paul is the conversationalist, Marsha is the comedian.  Delightful couple!
The Classless Class loosely arranged daily activities, all of which had big turnouts.  I hated to pass up the field trip to the Desert Bar but it overlapped with the first annual Blogfest where I got to meet more than 50 of my favorite RV Bloggers!
"Take it or Leave It"
Here's how it works.  You drop off items at the tent that you no longer want.  Then we all get together and everyone draws a number to see who goes first.  We choose our favorite items and everyone goes home a winner!  After a few rounds, it becomes a "free-for-all." Thankfully, it never got violent.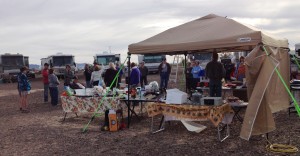 I was actually quite pleased!  For a bottom-feeder like me, this event was a gold mine:
1.  Air Compressor
2.  Coleman Grill
3.  Two Touch-Lamps
4.  Cast-Iron Skillet
5.  Several Books and CD's
Big Tents and Flea Markets
The enormity of the marketplace is overwhelming.  It's so big, that I couldn't even locate the  RV Show until the day I left!
The easy one to find is The Big Tent.  This is really what I would classify as a Home and Garden Show.  It's a nine-day event and it is always packed.  I fully intend to set up as a vendor in future years.
You can't possibly see it all — not even in one week.  Every empty parking lot is transformed into a flea market.  And there are deals to be had!  As a license-plate collector, I accidentally ran into the biggest collection I'd ever seen one day when I wandered into a very obscure corner of a market.  This old man had thousands and thousands of plates.  He was extremely patient and attentive and he loved sharing the history behind each design.  And bargains.  His started at a mere dollar!
Main Street is also lined with vendors.  And if you're not watching closely, you could easily miss the feature attraction!  He was sitting so still, I thought I was looking at a stuffed animal of a dog on a mechanical bull.  But then…

And I just happened to have a dollar…


Bittersweet Memories
Shortly after I arrived at camp I was informed my grandmother was not well.  I was distracted with anxiety the first half of the week, and melancholy the second half.  We were pretty close during my youth (in fact I even lived with her for a few months).  And while she'll be missed I really am happy that she's finally with Grandpa again.
Joan Rice passed away on Friday January 23rd, 2015.