Click Any Photo To Enlarge!
" * " Definition on Common Terms Page
Current Venue: Las Vegas, NV
Campground: Thousand Trails
Most of my stay in Vegas the past few months has been focused on my financial survival.  My entertainment has mostly been sports at the clubhouse and whatever in-home entertainment I can find.
But I was recently given tickets to a concert at Mandalay Bay.  My plan was to follow up on a couple job leads and run a couple errands en route to the resort, then possibly find a date and enjoy a nice show.  But I manage to arrive only about 45 minutes prior to the show.  No time for prowling…
Instead, I took a few minutes to enjoy the hotel lobby.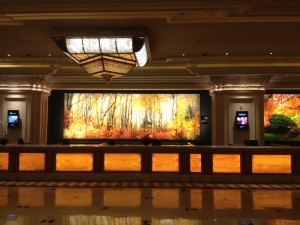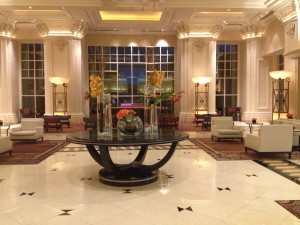 I was feeling pretty "good."  On 3 occasions this day I was given opportunity to lift people's spirits just a little.  For instance, at a McDonalds I spotted a lady outdoors on a cell phone.  She was crying.  It was non-stop waterworks for 20 minutes and she was going through a toilet paper roll in quick fashion.  I didn't think it would be any trouble to go next door to 7-11 and buy her a box of tissues.  Needless to say, she was quite surprised and grateful.  (It seems a friend of hers was not well or had passed).  I think in a hard-hearted city like Las Vegas, it feels even that much better when you can do something nice for someone.
And even as good as it feels, I can't help but feel that I myself am due for a break, pretty soon.  Make a wish?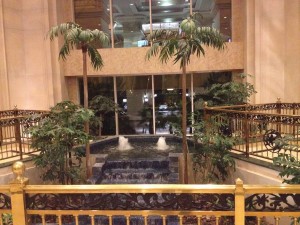 I found the shiniest penny I could find, paused for a brief meditation, and tossed it perfectly in between the two fountains.
And then promptly lost my concert tickets…
Yep, I was in the restroom and remembered seeing them dangling from my pocket.  I stuffed them in another pocket and, when I left the restroom discovered them gone!  I retreated — someone had already swiped them.  Well, the bright side is two people could enjoy instead of just one.
Hey, but what about my good karma and the lucky penny?
Well, for the first time in weeks I made a small investment at the poker table and came away a $600 winner!
That was maybe the best concert I never saw…