Click Any Photo To Enlarge!
" * " Definition on Common Terms Page
Current Venue: Las Vegas, NV
Campground: Thousand Trails
I used to think of Las Vegas and Henderson as one and the same — one big, hot, chaotic city.  Both have plenty of the same casinos, big and small.  Both have a prominent residential neighborhood (Green Valley and Summerlin).  And both have plenty of 7-11's.
The obvious difference of course, Vegas boasts two of the most famous streets in the world : Las Vegas Boulevard (The Strip) and Fremont Street (Downtown). But Henderson has something Vegas can't claim…
A downtown with a "small town" feel.  There's barely any traffic.  People stroll down the sidewalk at a leisurely pace just for the sake of doing so.  Folks are in a good mood here. Heck, it's practically a slice of Americana!  Almost…
Ok, maybe it's not extraordinary..  But when you've been living the fast-paced vibe of Las Vegas for several months, this small pocket of quietude is a breath of fresh air.  It's also really neat to be able to walk from one casino to another in less than 60 seconds!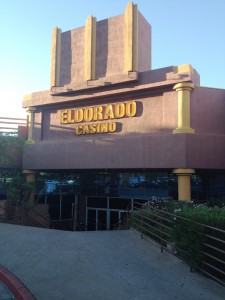 I have to wonder if Edorado Henderson is related to the ones in Reno or Shreveport — it's quite possible.  One thing's for sure, it's a local's casino.  But that doesn't mean it's not unique.  I like the murals…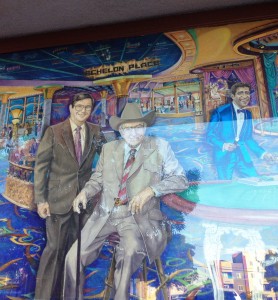 Thirty seconds later I was at Rainbow Casino, a sister of perhaps the best casino/resort in the country — the Peppermill in Reno.  I never get tired of these mesmerizing videos…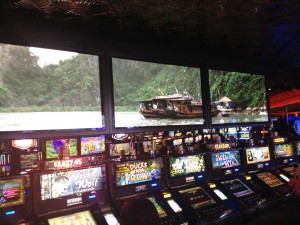 Last, but not least, The Emerald Island.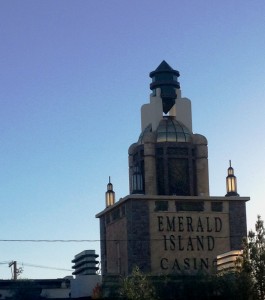 I think my favorite feature of this casino is the Friday Night free pizza and ice cream.  Now how can you beat that?!  I suppose if any of these casinos had poker…
But, honestly, I haven't missed playing poker.  I haven't been $1000 down this late in the year since about 2005 — and I hate losing.  I figure I'm supposed to be doing something else right now.
Perhaps I've found it.  I'll find out soon enough next week.  You see, I'm trying a new sales job. I'm actually really excited about this one!  How can you go wrong when you meet your employers at the clubhouse of an RV Resort?!  Of course the fact that one of them is a fan of the Pittsburgh Steelers is a bit ominous, but I still have a good feeling about this young couple.  I'm looking forward to seeing what next week has in store for us.  If this opportunity is as good as I think it is, I may be on the road again much sooner than later.  I'll shut up now before I jinx it…