Current Venue:  Las Vegas, NV
Campground: Riviera RV Park
Over the past 7 years my cat has cost me about $50,000 in lost wage opportunities (and petsitting fees).
Before I explain, let me preface by saying Jeepers is my best friend and everything I could want in a pet.  He's playful, gentle, funny, adventurous,  affectionate, loyal, energetic, social — and typically blows people away with his personality.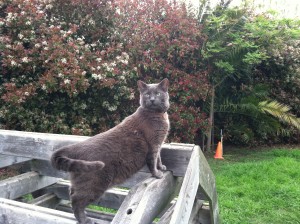 But he's not low-maintenance, requires constant social interaction, and has a huge impact on the life I want to lead.  This is difficult not to think about when I'm nearly broke and  realizing I never really needed to be.
I wasn't looking for a pet when Jeepers came into my life.  At the time, I was traveling full-time with my girlfriend (motel-style) and she was doing well financially.  This skin-and-bones feline entered our lives by breaking into our room to get at a loaf of bread.  Even still, we only meant to rescue the cat, not adopt him.  After a couple weeks of feeding him we took him to a local vet/shelter to get his shots and put him up for adoption.  After one week in a cage there, I was devastated to learn that Jeepers had never even been processed to be put up for adoption — he was in that cage for an entire week for no reason!  Guilt-ridden, me and my girlfriend rushed to pick him up.
Knowing his personality, we both kind of knew he'd develop some sort of psychosomatic illness being locked up in that cage.  And he did.  He was depressed, sneezing, and completely drained.  It was awful.  We felt awful.  The only consideration at that point was to care for him until we made our way to a destination where he could be adopted out.
Weeks turned into months as we fell in love with this cat.  Jeepers then developed a mysterious stomach ailment and, before long, we realized we were in for the long haul — this was our baby boy.  A year later he would become MY baby boy — my girlfriend left me with him!  Nice.
I traveled another couple years with Jeepers as a special-event poker dealer, but my mobility was very limited.  For instance, I never had the flexibility of dealing an event in Iowa, then flying to San Diego the next week.  It couldn't be done.  Lost income.  Additionally, when working at an event like the World Series in Las Vegas, I don't have the option of "doubling up" and working at one of the other  events in Vegas going on at the same time (some dealers do this and bank $15,000-20,000 in 7 weeks time).  If I tried that, Jeepers would never let me sleep!
While I believe his social neediness is part of the makeup of his particular breed, it's also a byproduct of growing up in small hotel rooms with one window.  There's not much to do in a hotel room.  Human interaction became a necessity.  I was hoping when I bought the camper a few years ago, that issue would be resolved.  Not so.  This creature has to love and be loved.  Leaving him alone for more than 12 hours becomes a real challenge — do it two days in a row and he turns into a 2-year-old child.
And, because he's a special needs cat now that requires 3 feedings per day of a particular kind of food, eye medication, and occasional 2-week stints where additional medication is required to treat his irritable bowel syndrome — Jeepers is virtually unadoptable.  In fact, in the nearly 4 years I've lived in Reno and posted continuous ads on Craigslist and  flyers at vets — nothing. (Not even cat-ladies can adopt him because he can't be exposed to other cats' dry food or he'll get sick).
I began my full-time RV Journey in March, let me just review my most recent Jeepers-related financial setbacks:
1.  While camping in Redding for a month, I had to hire my old sitter (in Reno) for a few days while I did business at a trade show (in Reno) .
2.  When, unexpectedly I found out I would have to go to Vegas a month early to audition for my summer job, I didn' t have the option of simply flying in to do so (no catsitter).  I had to leave Redding, where I was making $70 per hour playing poker, to get down to Vegas one month early.
3.  After a devastating April loaded with breakdowns and financial setbacks, I still didn't have the option of "doubling up" and working two events instead of just the World Series of Poker.  As it turns out, the WSOP severely overhired as the turnouts for the event are 20% down.
4.  The Grand Canyon (South Rim) can't hire me because my rig is too old — unless I stay in the dorms.  (Problem: I have a cat).
5.  The late-night shifts at the WSOP (8pm-4am) have really upset him, particularly the longer shifts when I don't get home until 6 am.  On these occasions, I can forget about getting any more than 4 hours sleep, therefore I'm not feeling well and have to try and get off early the next night (last night, for instance).
Conservatively he's cost me a little less than $10,000 per year in lost wages and petsitting fees.  This includes my limited-mobility issues during my travel years and being limited to part-time work schedules during my years in Reno.  (For instance, I estimate I could have easily made about 10k more per year in Reno if I were able to play poker in addition to my normal work schedule).
Despite Jeepers' stomach ailment, I believe he could live another 10-15 years.  This concerns me.
If any of my readers knows someone that can care for a terrific cat (ideally a large family with kids or a retired couple), I'm ready to entertain all serious inquiries…
Next Story: Signs of Life