Click Any Photo To Enlarge!
" * " Definition on Common Terms Page
Current Venue: Las Vegas, NV
Campground: Thousand Trails
When I was growing up I always dreamed of owning a Lamborghini.  Did I mention things were going well?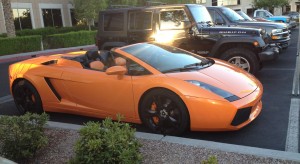 I mean, I must be on the right track.  My scooter is the EXACT same color!  Perhaps someday soon I will also own an orange Lamborghini!  A boy can dream…
I actually found this beauty at a computer geek meeting.  I may need to switch careers, again.
I'm now starting all over in Vegas.  The new adventure.  With the WSOP finally over, it's time to determine my new game-plan moving forward.
By the time I'm  settled in, probably September, the average high temperatures will be under 100 degrees.  By October, the average high is 82.  And then it just keeps getting better!  From what I can tell, Las Vegas weather is quite pleasant 6 months out of the year!  (I've only been here a couple times outside the summer months).
I found a neat coffee shop.  These are hard to find in Las Vegas.  Most of the Starbucks here are tiny, cramped, and have the Nevada sun beating down on you from most directions.  There are some nice ones in the casino/resorts, but they don't generally cater to folks like me who want to camp for a few hours on the wi-fi — they want you out in the casino gambling.  I finally found Sunrise Coffee House, which is seemingly where all the cool kids hang out.  Thus, I'm one step closer to feeling like I'm "home."
I'll begin showing highlights of the Vegas resorts in upcoming posts.  But, for now, I'm doing my very best to get my new "office" organized so that I can operate with maximum efficiency as I start to get busy working, again.
Stay Tuned!