Click Any Photo To Enlarge!
" * " Definition on Common Terms Page
Current Venue: Spring Branch, TX
Campground: Spring Branch RV Park
Visiting: Guadalupe River State Park
Recently Updated:  About Me
I'm generally not one to critique the places I visit because I tend to favor the highlights of a day trip and overlook tiny flaws.  For Guadalupe River State Park I have to make an exception, though.  I have to say that several things about this park are a bit baffling…
1.  Why charge the full $7 parking fee when half the park is under construction?  Maybe knock a couple dollars off during the weeks the water is shut off and no restrooms are available.
2.  The riverfront is without a doubt, quite beautiful.  But for a state park named after a river, the 3/4 mile path along the river seems a little "brief."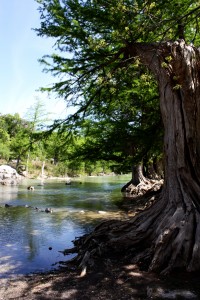 3.  Going back to the $7 fee, shouldn't at least one amenity be available on weekdays?  If not the nature museum or the restrooms, how about the mysterious "Rust House" (which I'm assuming is the lodge).
4.  There's a lot of train noise.  It seems odd in such a beautiful natural setting, especially if I were camping here.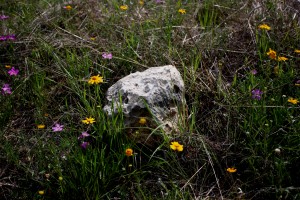 5.  Guadalupe River State Park has absolutely the worst trail system and signage I've ever seen.  I hate to say that but it truly is bizarre.  The first short trail I took I made the mistake of not taking my map.  I ended up in one of the campgrounds.  Not wanting to double back, I looked for a way back out to the main road but, not being able to locate a single sign that might give me a clue, I ended up backtracking my way back to my parking lot.
The second trail I took was called a "loop."  My interpretation of a loop is a trail that begins at Point A and ends at Point A.  Instead, you end up about a half-mile away from your car — again, no signs for direction.
Coming into the park, you do see certain navigational signs from time-to-time.  (At the end of this last trail head would have been a nice place to put one).  Most are oddly misplaced. If you're coming from the other direction, however, there are no signs!  Therefore you have to slow down and look over your shoulder if you want to make some stops on the way out.
But wait, it really is a nice park!  Despite the peculiar layout of this park, it really is quite nice.  The campsites look fantastic — with lots of space and tons of shade under the gnarly-looking low-lying canopy of the forest.  The plentiful picnic areas and benches are also in the shade with some very nice views.  In fact, once the plumbing issues are repaired in the next few weeks, this would be a fantastic spot to have a picnic and read a book for an entire day.