Click Any Photo To Enlarge! " * " Denotes A Definition Available on the Common Terms Page
Current Venue:  Brenda, AZ (near Quartzsite)
Campground: Black Rock Village

Tuesday
Is this any surprise?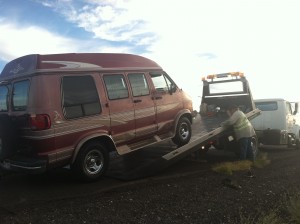 So much for a smooth start!  This was my campsite along Interstate 10 for much of the day…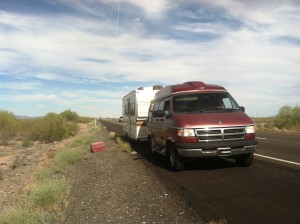 While a partially-sedated Jeepers was able to tolerate the continuous rocking and road-noise in the confines of 48 Ugly* — even with the vents open the conditions were simply too uncomfortable for me.  I opted for some shade in the 100-degree temperatures…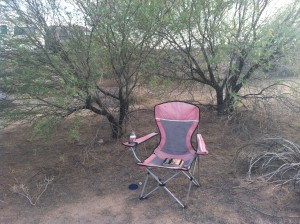 It was a very borderline decision a couple weeks ago to renew my Good Sam Roadside Assistance.  I hated to fork out over a hundred bucks considering my current state of affairs — and I didn't have far to get to Vegas where I could renew it over the summer — but I eventually concluded that I'd better do the "wise" thing.
I knew when the engine just "quit" in the middle of the desert, I was in for a long day.  I wasn't even close to diagnosing this one — it didn't overheat, all the fluids were fine, and it definitely still had some battery.  I've had some minor fuel-injection problems but I was sure that wasn't it, either.  I knew quickly I was in for a tow…
But that's not to say I quickly got one.  As grateful as I was that Good Sam Roadside Assistance was towing both vehicles for me, it took nearly 2 hours to coordinate a dispatch that would bring 48 Ugly to the campground and Memphis Red* to a garage.  It would be an additional hour before the tow.
One thing I will say about being stranded on the highway in your home is that at least you have provisions.  I had myself sort of a picnic and contemplated life.  In between I'd take short breaks and check on Jeepers and the conditions in the trailer.   And I drank lots of fluids.
I was picked up after 6:30; Memphis Red on the flatbed and 48 Ugly hitched to the back.  Me and Jeepers got to ride in the van.  It was interesting, to say the least.
Finally, as it was getting dark, I felt some relief in dropping off my home at the campground.  I unloaded Jeepers, got back in the van, and rode atop this tow truck for another 45 minutes in the pitch-dark on this lonely mountain highway to the garage in Wenden.  It was a very strange and ominous journey.
Once at the garage in Wenden, the driver made a bee-line to the restroom and disappeared.  He became the behind-the-scenes orchestrator of the unloading of Memphis Red.  That's right — he ran the show from the toilet as his wife and the mechanic followed instructions.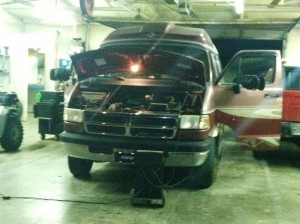 After determining the problem was electrical, the mechanic gave me a ride back to Brenda — a half-hour drive.  I arrived at camp at 9:30 pm.  What was supposed to be a 2-hour drive turned into an 8-hour ordeal.
Wednesday
My mechanic called to tell me that the original part wasn't going to do the trick.  The computer had to be replaced.  Even by evening's end, he couldn't locate one.  I was beginning to get worried.
I did my best to relax and recuperate from my exhaustion — including two glorious dips in the pool.  I mustered a bit of energy for a short hike…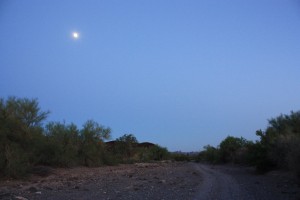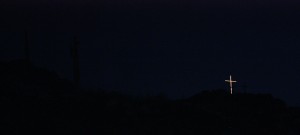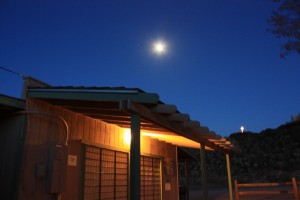 Thursday
Today was filled with anxiety.  My mechanic continued to have a difficult time locating the part.  Would I lose tomorrow, too?  That wouldn't give me much cushion for other potential misadventures before I had to be in orientation Monday.  And what if the part didn't work?  That would be a whole new disaster altogether.
I spent most of the day watching The History Channel…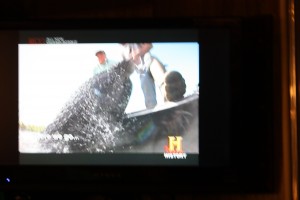 It's been quite awhile since I've had this channel.  Pawn Stars, Swamp People — gotta' love it!
By 4:00 I hadn't heard any good news. When I got tired of playing the worst-case scenarios over and over in my head, I went for a swim.  I can't tell you what a beautiful sight it was seeing Memphis Red pull up unexpectedly!
WHEW!
I'm Grateful:
*  Jeepers was an incredible through the whole ordeal on Tuesday — even when I had to sedate him twice.  He seemed to realize the unusual circumstances and behaved like a pro.
*  Good Sam's Roadside Assistance.  They towed both my vehicles!
*  The tow truck crew for recommending I steer clear of the garage that I was originally dispatched to — apparently rip-of artists and further away from camp.
*  Jody, my mechanic, for really working with me on the price and arranging rides.  He was extremely devoted to getting me back on the road and truly went above and beyond.
*  The staff at Black Rock and my terrific neighbors for assisting me with various tasks.  We are 15 miles from the nearest convenience store and not only did they pick up provisions for me, my neighbor Laura welcomed me with baked goods and other goodies.  Everyone here has been terrific!