Current Venue: Coffeyville, KS
Campground:   Buckeye Mobile Estates
Visiting: Elmwood Cemetary
Click Any Photo To Enlarge! " * " Denotes A Definition Available on the Common Terms Page
It's not that there aren't plenty of things to do in the Coffeyville area on a budget.  It's just that I've been quite content to fish and watch football on my days off — especially after investing in a fishing rod and cable TV.  But yesterday I had to get out of the "house" a little bit.
Elmwood Cemetery is home to the infamous Dalton Brothers gang — 3 members being shot and killed during their last-attempted bank robbery.  For many years, their grave site was marked by only a pole.  It's customary, after all, not to celebrate our villains until they are long gone.  In fact, I believe it was Frank Dalton…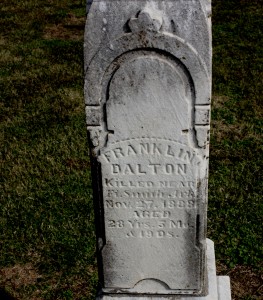 …(don't quote me on this part) that finally gave the gang a proper tombstone upon his return from the war…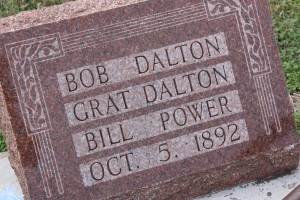 There are several bouquets of flowers around the site — the gang has a special place in someone's hearts.  I doubt even my grave site will ever see this much flora.  These days the town of Coffeyville celebrates the gang — er, their demise — with the annual "Dalton Days."  They also have a museum in their honor.  Perhaps an amusement park one day…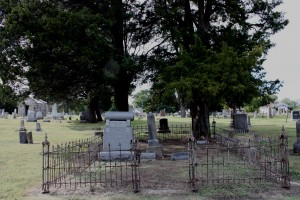 I'm not criticizing.  It's  human nature to celebrate our most notorious villains.  The pirates, cowboy outlaws, crime bosses.  I just think it's interesting that we'll celebrate the characters we consider real slimeballs today — gangbangers, serial killers, and mass murderers.  It will happen — we just wait until it's "fashionable" to do this without violating people's sensitivities.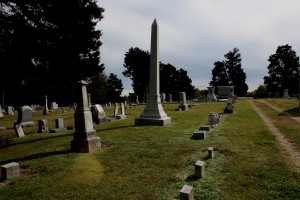 You may be wondering how I could go to a cemetery and not do a little ghost-hunting.  Well, this turned out be a two-part adventure.  I went during the day so I could locate the most famous residents first, then I went back at night…
Unfortunately, the late evening was dominated by train noise.  In fact, this is me waiting at a railroad crossing at around midnight…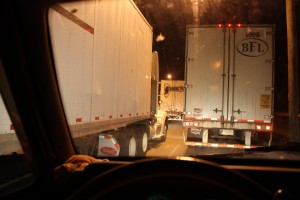 …only to find another train behind the cemetery making quite a loud racket.  It seemed the train would be there awhile doing some loading and hitching — not optimal conditions for ghost-hunting, in my estimation.  What the heck, I might as well snap a couple photos while I was there.  But I believe it was while I was standing next to Memphis Red* contemplating this that I was spotted by the neighborhood watch.  It wasn't 5 minutes of sneaking in the cemetery (curfew was 9 pm) that I spotted two cops searching the van with their flashlights.  I was busted!

But they were pretty cool about it.  They explained that the curfew had been set do to kids vandalizing graves, thereby ruining it for people "doing what you do."  I think they'd deduced I was a ghost-hunter despite my only explanation being I wanted to get a couple photos of the cemetery at night.  Reputedly, it is a haunted cemetery so it's probably not the first time they've encountered weirdos like me.