Click Any Photo To Enlarge!
" * " Definition on Common Terms Page
Current Venue: Spring Branch, TX
Campground: Spring Branch RV Park
Visiting: Downtown San Antonio
Recently Updated:  About Me
Perhaps this is another sign I'm supposed to leave San Antonio : I went in to work at the catering company, finally scheduled for my first bartending shift — and was sent away on account of my pony-tail!  It's a new policy.  This means that the remainder of my tenure there I'll be delegated to "scraper."  This is a filthier job than dishwasher.  A scraper literally wipes excess food off of hundreds upon hundreds of plates with his hands and piles them in crates to be loaded on the truck.  It should be featured on that show "Dirty Jobs."
Well, I sure wasn't going to let that $20 in gas go to waste.  Off to Tower of the Americas…
I love overcast days, but they're not really ideal for $11 tower rides.  I opted instead for a little stroll…
If you ever ask directions from someone in downtown San Antonio, they'll always use the term "street level" or "river level."  The entire downtown truly is bi-level! Of course I prefer "river level."  With over 70 restaurants and probably a hundred more shops, the miles of canals is truly a site to behold.  This has quickly become one of my Top 3 Big Cities.
Of course, I'm not leaving Downtown San Antonio not having done a boat tour.  As a "resident" of Bexar County, I was entitled to a discount — only $6 for my ticket.  There must be 30-40 boats in this tour company's fleet.  Many of the restaurants will do private catering parties on some of the dinner-cruise boats.  On a separate part of the river there are also taxis — some with all-day, get-on/get-off privileges. Interestingly, the hundreds of waterfalls along the river serve a purpose — to keep the water circulating so it doesn't become stagnant.
As the sun's rays started blazing through the clouds, I simply could not get a good photograph with this silly iphone.  Needless to say, you guys missed potentially my best blog post EVER.  I did manage to get one shot when the sun went back into hiding.  Here we're doing a u-turn at the Rivercenter Mall…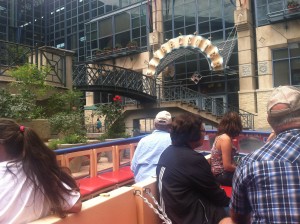 Of course, when in San Antonio, "Alamo City", you do have to visit The Alamo.  I'm not a huge war buff, I have to admit.  And I never really understood the significance of The Alamo before my visit.  But I think The Alamo is at the root of why Texans are so proud of their state — and Texans are by far the proudest citizens in the union…
When American citizens of the then-Mexican territory rebelled against the unjust and corrupt government, they found themselves in a very vulnerable position here, especially when they realized they would have no reinforcements.  Knowing it was suicide as the Mexican troops closed in, each Texan soldier was allegedly offered the opportunity to bail out — but something like 257 out of 258 men "volunteered" to defend The Alamo.  Most of them died in this unbelievably heroic battle.
The plant life here is amazing, as well.  Here are perhaps the longest horizontal tree limbs I've ever seen…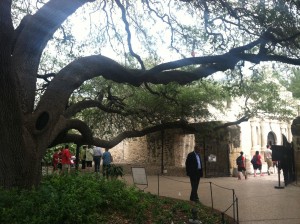 And, while certainly not the tallest, quite possibly the largest cactus I've ever laid eyes on…