Click Any Photo To Enlarge!
" * " Definition on Common Terms Page
Current Venue: Las Vegas, NV
Campground: Thousand Trails
NOTE:  This post is being written from Las Vegas after being without a computer for 3 weeks.  This adventure took place May 15-16.
I'd enjoyed plenty of nice cool weather up on the first half of the journey to Vegas.  It was clear when I arrived in Tucson things were about to change.  It was beginning to feel a lot like summer.
The office had already closed when I arrived at Desert Trails RV Park at about 3 in the afternoon.  The pull-through rows were ominously empty and I didn't see a solitary person braving the heat for nearly two hours — not a single person!  Of course this means I got my choice of sites…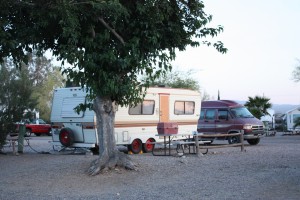 While the pull-through rows were empty, there was plenty of evidence of civilization.  I thought I'd surely see someone at the pool…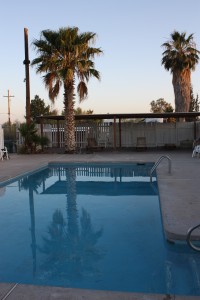 Deserted.  Now, I realize all the snowbirds just went home and that this was clearly off-season, but it seemed to me that the hundreds of remaining residents were wasting a nice resource to beat the summer heat.  But then I got IN.  Cold.  After about 10 minutes I couldn't feel my toes, any more (the pool is normally heated during the in-season).
Upon visiting the fantastic 3-room library, I knew then I'd go ahead and stay 2 nights instead of one.  To catch up on some reading?  Nope.  I found about 6 movies I wanted to watch.  They have a really great selection and I felt some lazy time in the camper would do me some good.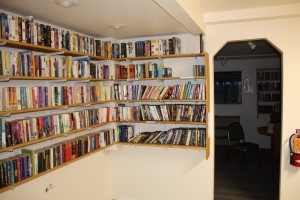 But then I found the trails.  It starts out innocently enough, a modest-looking trail at the back of the campground .  You might think it's just a little nature loop.  It actually expands into miles and miles of desert oasis…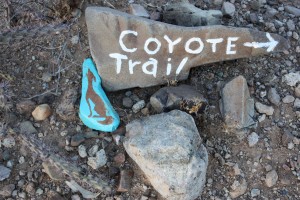 This desert has the biggest diversity of plant and animal life I've ever seen.  The best way to describe it would be "desert forest" and is absolutely spectacular at night.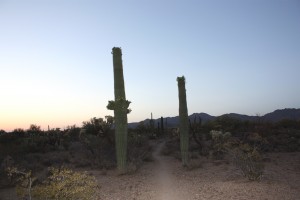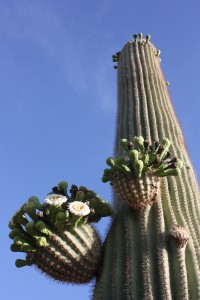 I'm sold on Desert Trails RV Park!  If there's this much to do here in the off-season, I can't imagine how much fun it would be when it's bustling with people and fun activities.  I'll definitely come back one day.