Click Any Photo To Enlarge!
" * " Definition on Common Terms Page
Current Venue: Spring Branch, TX
Campground: Spring Branch RV Park
Visiting: Cibolo Nature Center in Boerne, TX
Recently Updated:  About Me
I wasn't really planning on a hike in humid 92-degree weather.  If I was, I wouldn't have worn blue jeans. But when I was heading to the grocery store, the explorer got the best of me!  When I saw the sign to Boerne, I simply couldn't resist!  After all, now that the forecast is 70% to head to Las Vegas, I may only have 2 more weeks to do the rest of my sightseeing.
But what to do when I got there?  I referred to my TripAdvisor app — which I've been using a lot lately!  It's nice to be able to check your iphone for instant reviews of the places around you!  For instance, there's "The Cave With No Name."  It's a popular attraction that get's terrific reviews, but one individual mentioned it being a bit pricey.  That's enough for me — it was off to Cibolo Nature Center! It's free.  (I did all this research in less than 5 minutes on the side of the road).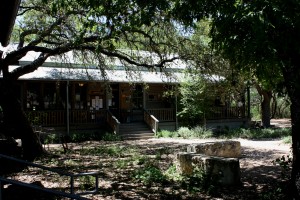 Cibolo Nature Center not only does educational programs for both children and adults, it seems they actually conduct studies here.  There are several runoff rain barrels on the property, apparently part of rainwater storage study…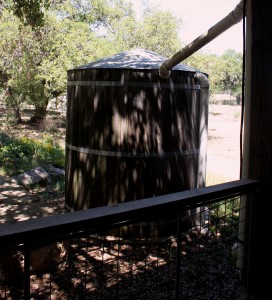 I should have gotten lots and lots of photos of the wildlife I saw along the creek trail   But the critters kept getting away!  I did manage to catch a glimpse of dozens of snakes, lizards, turtles, and deer.  The floating micro-plants, called "duckweed", stayed put long enough for me to get several snapshots…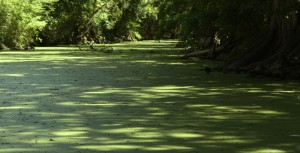 It was an introspective hike.  My journey has a small chance of keeping me here in Hill Country maybe one year en route to Vegas for at least a couple.  There's a 70% chance I'm on my way to Vegas for 3 years, however. Once I'm in Las Vegas, it certainly becomes a different kind of adventure.  Many of my excursions and day trips will be to the casinos and resorts.  And I know I'll do plenty of day trips and excursions in southern Nevada, California, and Arizona to keep me busy…
But for a fleeting moment I wondered if I'd ever give up 48 Ugly* , campgrounds, nature, and small-town USA in trade for urban life and the stability of a normal j-o-b.  After all, with over 70 casinos that are practically cities unto themselves, there's plenty of adventure to keep a poker player busy…
Not a chance!
Despite the constant misadventure and stress of the first couple years of The Ultimate Journey, I'm more in love with it than ever!  I think I'm hooked for life.
I know once I get settled in I'm going to have a great time in Las Vegas, I really will!  But when my 3-year plan accomplishes what it needs to — finish my projects, get my business going, pay my debt, and buy a new tow vehicle — I'll be hitting the back roads of America in no-time flat!