Click Any Photo To Enlarge!
" * " Definition on Common Terms Page
Current Venue: Spring Branch, TX
Campground: Spring Branch RV Park
Visiting: Blanco TX, Blanco State Park, Canyon Lake TX, Canyon Lake Marina
Recently Updated:  "Written in Jello" Travel Plans  March 27th, 2014

Off to Blanco, Texas to fill my propane tank.  This one's worth another visit, as I want to spend more time at the parks and tour the buggy museum.  It was about 5 in the afternoon, however — and the quaint little shops downtown were closing up.  So instead I took the trail to Blanco State Park.
It's unusual you'll find a trail to a state park right off the corner of a downtown square!  Equally unusual is a state park lined with residence backyards and restaurant patios!  But sure enough you have the Blanco River on one side, and folks mowing their lawns on the other.  And here is the Blanco State Park mascot:
After this pleasant stroll I took a side trip 14 miles to the east to Canyon Lake.  The town has the appearance of a little tourist getaway.  There's a community north of the park with a large "visitor center" that suggests timeshare.  But when I drove into the park, all the trails and beaches were closed.  How could this be — the weather's been perfect!
I spotted a sign that the restaurant at Canyon Lake Marina was open.  I thought surely I'd see plenty of boaters and fishermen.  Nope…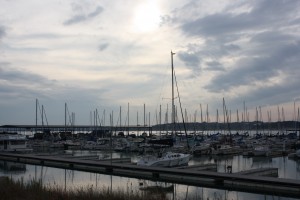 Not a single soul.  I made my way into Baja BBQ Shack…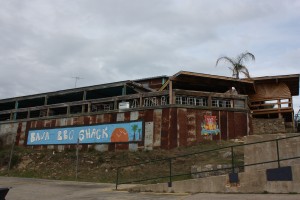 Life!  A bartender greeted me as her manager and day-shift waitress were leaving the entire place to her.  The setting was kind of surreal.  Here was this panoramic sunset in this spacious restaurant on a gorgeous day — and we were the only ones there to enjoy it!
As I made my way back to Spring Branch I couldn't help but think what a perfect layout I have here.  Just north of my campground I have little towns like Blanco and Canyon Lake to explore — without the traffic or busy-ness of the big city.  Just south of my terrific campground is quick access to country stores and more modern conveniences in the small town of Bulverde.  And just south of that is San Antonio, which is where I'll be working.  I think it's a terrific city — loaded with sightseeing opportunities and perhaps the prettiest downtown of any big city I've ever seen.  Much more on that later.