Current Venue:  Salome, AZ  (near Quartzsite)
Campground: Black Rock RV Village
Ok, I'm fairly new at this, but is this site HUGE?!
(Do not read:  The trip from Vegas went smoothly.  Those of you who follow my blog, however, know that I seem to prone to having an occasional "incident" my rookie season as a full-timer.  Today I watched my home nearly topple onto it's nose when it popped off the ball "abruptly" while trying to unhitch the ball, which had been stuck.  My trailer reared up, came crashing down and, for a moment it appeared that the shaft was going to give way and break.   This left 48 Ugly in a rather precarious position but, with the assistance of my new best friend Ken and his floor jack, we were able to hoist it up for a re-do.  Lesson:  Lubricate the ball hitch occasionally.  Ok, enough of that…)
What a terrific park! Did I mention how spacious my site is?!  A few snapshots…
One of the more unique features of the resort is the smaller of the two rec halls.  This one comes complete with a library and an actual church — with services every Sunday…
Of course, most of you full-timers know about this area, where millions of RVers make their winter homes.  I'd certainly heard plenty about it.  But what I didn't realize is that most of these parks have regular entertainment.  It seems I pretty much get to select which music jam I get to drop in on tonight.  I also didn't realize it was a requirement to own either a golf cart or 4-wheeler.  I prefer the 4-wheelers…
Get this (and I know you full-timers already know this):  Many of these parks have annual rates that come out to a little over $100 per month (plus electric)!  For as little as 12k you could own a nice little pad with a huge porch and then pay next to nothing to live in a nice resort with the BLM public lands in your backyard…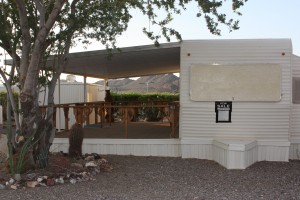 Not bad.  And it's certainly something to consider when I decide to settle down for part of the year.  Perhaps when internet poker makes a comeback, I'll go ahead and stake my claim here.
Next Story: Walked Right Into THAT One