Click Any Photo To Enlarge!
Where I'm At: Palm Desert, CA
Campground : Palm Springs Thousand Trails
Day Trip : Palm Springs Aerial Tramway
Going Up! (Straight Up)
Welcome to Mt. San Jacinto State Park, home of the world's largest rotating tram car!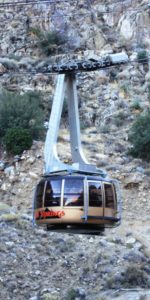 Prepare to "Oooooh" and "Ahhhhhh" during the nearly straight-up ascent to the 8500-foot peak through a magnificent canyon. All this, while the car is slowly rotating for your viewing pleasure.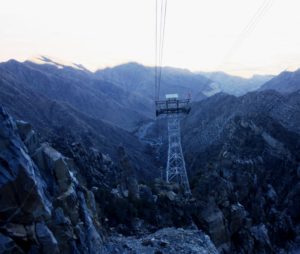 Oops! I Did it Again
I didn't do my research, again. It didn't even occur to me there might be a stop on this ride! I put 2 and 2 together when I saw everyone bundled up in winter clothing at the boarding station — I, of course, was the only fool wearing a t-shirt and shorts.
When we reached the mountaintop lodge, I stepped out onto one of the back decks…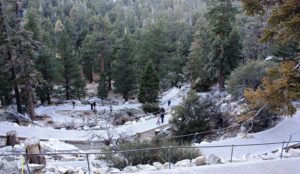 This, of course, if part of a 50-mile trail system that gives you access to the natural history museum and theaters. The temperature? About 35 degrees.
Plan B
Fortunately, there's plenty to do at the lodge (known as "Mountain Station"). First, I enjoyed a healthy lunch at Peaks Restaurant.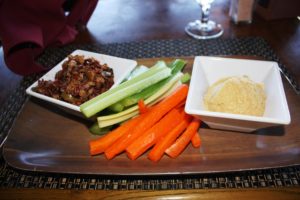 I opted for the Hummus and Tapeneade dish with fresh vegetables from the Coachella valley. The tapeaneade is made predominately of crushed olives and capers. Very tasty, but powerful, as you can imagine. But when I offset this with the celery dipped in ranch dressing I was simply in heaven.
I followed this up by bouncing around the various observation decks and simply taking in the scenery! It's said on a clear day you can actually see Las Vegas 175 miles away. (I'm a little skeptical. Maybe with high-power binoculars)?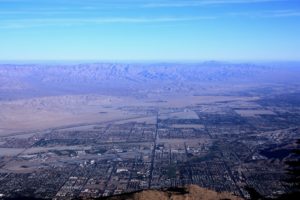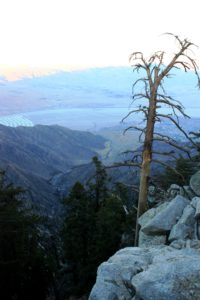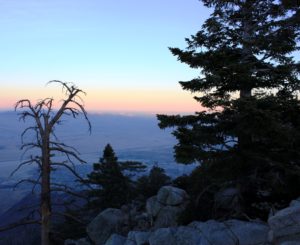 I Found My Christmas Spirit!
It can be challenging to tune into my Christmas Spirit in the desert, sometimes. It's not quite the same as my rural Illinois holidays wishing for snow on Christmas Eve.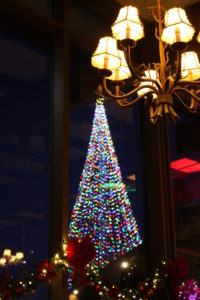 But I was in for a treat this night. Christmas carols at the lodge! I purchased a hot coffee and enjoyed an hour of holiday tunes by a very talented high school choir. I soaked it all in, a perfect evening.